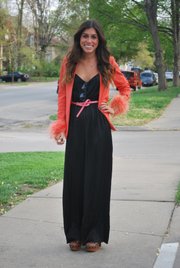 Name: Tessa Califano
Age: 20
Sign: Leo
Relationship Status: In a relationship
Hometown: Rancho Palos Verdes, Calif.
Time in Lawrence: Three years
Occupation: Full-time student
What were you doing when scouted? Just finished taking a test, leaving (Kappa Alpha) Theta to go to dinner.
How would you describe your style? I would say my style is trendy and bohemian. I love lose-fit, flowy clothing.
What are your current favorite fashion trends? Colorful clutches and T-strap heels.
What are your least favorite fashion trends? None. Fashion is art and in my opinion everything goes.
What would you like to see more of in Lawrence? More sunshine!
What would you like to see less of in Lawrence? Less Nike shorts.
Do you have any piercing or tattoos? I have three tattoos — a heart, my horoscope sign and the words "Fede. Speranza, Amore." I also have my tragus and ears pierced.
Do you have any fashion influences? Yes. I am a blogger so most of my fashion influences are other personal style bloggers that I have found throughout the years. One of my favorites is Elin Kling who writes for stylebykling. Her style is a combination of boyish and chic — I love it. I also look to Olivia Palermo and Giovanna Battaglia for inspiration as well.
People say I look like: My mom.
Tell us a secret: I wish I owned every Disney movie made.