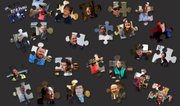 A special section honoring your neighbors, unsung heroes and people who do the little things that just make life better in Lawrence.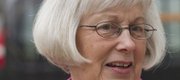 Read about the honorees in the 2011 Only in Lawrence: "Arts" category.
It's not easy to summarize the Lawrence arts scene in a few brief paragraphs.
So when I was asked to put together the "What to Know" piece for this section, I hesitated.
"What to know about the arts in Lawrence? You mean the places? The people? The galleries?"
"Oh yeah. All of that," I was told.
With that in mind, I went to the people who create much of the art on display in our city. I talked to young artists, vetted professionals, gallery directors and luminaries in the professional and educational spheres. Here's what I learned:
Art is everywhere: And not in the metaphysical sense or in the "we're all artists in our own way" sense. Sculptures highlight city hall, Kansas University's campus, the fronts of stores — even the alley between Seventh and Eighth streets, assuming you can see it before it's painted again.
"The quality of art that comes out of Lawrence is by far the highest in the state," said Lawrence sculptor Jim Brothers. "We're spoiled. And sometimes I think we're so spoiled here that we don't appreciate it as much as other communities do."
And if you prefer your art indoors, there's plenty of that too. There are formal gallery settings such as the Spencer Art Museum on KU's campus, the Lawrence Arts Center, 940 N.H., and the 1109 Gallery, 1109 Mass. We have alternative galleries like the Lawrence Percolator, in the alley behind the arts center, or the Invisible Hand Gallery, 801 1/2 Mass.
Beyond that, paintings adorn coffee shops, four theater companies — counting the university — call Lawrence home, and filmmakers like Kevin Willmott shoot around Lawrence, recruiting locals in the process.
A tight-knit community: Nearly every person interviewed referenced at least one other local artist as an influence. Brothers said that anyone working in bronze casting owes a great deal to Elden Tefft, the sculptor behind many of the bronze pieces on KU's campus. Tefft is also the founder of the International Sculpture Association. Earthworks artist Stan Herd called Willmott an inspiration. Lawrence artist and distinguished professor of art emeritus Roger Shimomura said students who have moved away and taken great risks influence him still. Full-time artist and winner of the 2011 Governor's Arts Award Louis Copt said fellow Lawrence artist Diana Dunkley, whom Copt shared a studio with in mid-1980s, was instrumental in his development as an artist.
"Her professionalism, positive attitude and artist activism — that set me on the right path," Copt said.
The future of art in Lawrence is bright: "When I arrived, occasionally an outside film would come through from Hollywood or an independent film that might want to shoot in the area," said Willmott. "But there was not much of a film scene in Lawrence.… There's a real film scene now in Lawrence."
With the addition of Final Fridays, downtown has become one big gallery space, giving way to artists who might not otherwise have a forum. Plans for an arts and technology incubator are also under way, with the express intention of nurturing burgeoning talent in artists and in scientists and engineers, encouraging collaboration.
"The idea would be to have a place where young artists can have an inexpensive studio space and they would be working together with engineers. The idea would be to get these people together in a space where they can exchange ideas," George Paley, sculptor and incubator organizer, said.
More like this story on Lawrence.com