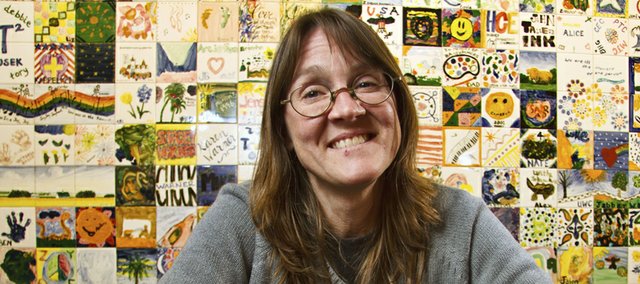 Amy Albright
Parent and marketing volunteer at Lawrence Arts Center
Duties: Takes photos and puts together the arts center's e-newsletter.
Moved to Lawrence area in: 1984 to attend Kansas University.
Family: Husband, Doug Davison; three daughters, Emma, Celie and Bess Davison.
Full-time job: Owns and operates Vinland Valley Nursery with her husband.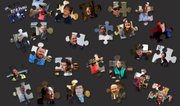 A special section honoring your neighbors, unsung heroes and people who do the little things that just make life better in Lawrence.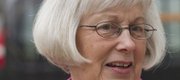 Read about the honorees in the 2011 Only in Lawrence: "Arts" category.
It's a family affair when Amy Albright, her husband Doug Davison and their three daughters spend time at the Lawrence Arts Center.
And Albright says her family wants to give back to the arts community, especially after benefiting from scholarships from the arts center for the girls to participate in classes there.
"Whatever they need, if I have the skills and I have the time, then we do it," says Albright, who has volunteered to help the arts center with electronic marketing.
When Albright is not operating the Vinland Valley Nursery with her husband, she can be seen taking photos of rehearsals, performances and activities around the arts center and helping with other tasks for an electronic newsletter.
"I'm familiar with the process, and it was just a way that I could kind of give something back for everything that they've done for us," she says. "It's a fun place for me because it's sort of my crowd. I hang out and help out whenever possible."
The arts are a huge part of her family's life. Both Albright and Davison came to Lawrence in 1984 to attend Kansas University and graduated with bachelor's degrees from the former School of Fine Arts.
They started their nursery business southeast of Lawrence in 1998. For a time, they home-schooled their three daughters and used the arts center as part of the girls' curriculum. For Albright and her husband, it's almost like helping out as part of a PTO.
Their oldest, Emma Davison, 15, has been participating in ballet for 10 years. The middle daughter, Celie Davison, 14, has an interest in the technical aspect of production. Celie was on the crew last month for the production of "The Music Man" while younger sister, Bess Davison, 10, was in the show.
As Albright and her husband spend nights volunteering, it's usually a family outing because their daughters have something going on at the arts center.
Albright says that makes it easy to want to help out because the arts center creates a family atmosphere.
"It's a place where multiple generations and different levels of all kind mix together," she says. "That's a really cool and special thing."
Executive director Susan Tate says the family has been integral in the arts center's activities and operations.
"Their three daughters are part of the fabric of what we do here every day," Tate says. "She and her husband have volunteered in so many ways."
The arts center depends on its volunteers for exhibitions and productions. When parents and volunteers offer their expertise, it makes the job of administrators and staffers easier, but it also makes the atmosphere more joyful.
"We find that families who are taking advantage of the scholarship programs are very generous giving back," Tate says.
Albright says she does her best to give back however she can, whether it's snapping photos and putting together the newsletter or other tasks. She volunteered to produce the e-newsletter from September through February, and as of March she started being paid for it.
Albright says operating a small business can be stressful, but the family feels that volunteering her time for the arts is important.
"It's such a big part of our lives," Albright says. "It's just been so important."