"Kansas poets are special people," writes Lawrence resident Tom Mach on the back of "Tallgrass Voices" (Hill Song Press, 2011). "They're in touch with the soil, in harmony with their unique history, and in love with a deep spiritual awareness of who we ought to be. They write words that open windows and lift souls."
Poetic words from a man who says he never took formal classes in poetry and admits that occasionally he has had difficulty understanding poems printed in scholarly journals, with the exception of Walt Whitman.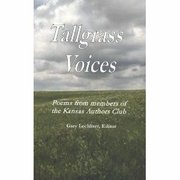 Despite his greater love for writing historical novels and short stories, last March, Mach had an idea to assemble a collection of poems from other authors to highlight the talent he knew resided in Kansas.
"There are stereotypes folks in California and New York have about Kansas writers," Mach says. "But I wanted others to realize we truly have great writers and outstanding poets."
"The book is a nice representation of writers," says Brian Daldorph, who teaches creative writing and literature at Kansas University, and who, like the other 20 writers represented in the anthology, contributed four poems to the book.
What unites the poets is their membership in the Kansas Authors Club, an organization that has been around since 1904, and was established to give writers the opportunity to "meet, listen, discuss and analyze their craft in an atmosphere of mutual support," according to its website.
"I like the grass-roots feel of the Kansas Author's Club," Daldorph says. "It's a good force in life — a group of people who have come together more for the purpose of writing than for the fame that writing can bring."
While few of the writers whose work appears in the book would call themselves poets — "I don't write poetry very often," says contributing poet Cathy Callen — when talking about their craft, they sound every bit the professional.
"Sometimes, for me, poems just happen. (They) just assemble themselves when I've been paying attention to a moment or a feeling," says Callen.
"Poems make different demands on you," says Daldorph, who says that he often puts his poems away for a few days while working on them.
"Poetry is a strange animal," Mach says. "And while I prefer writing history and novels, I like the scenes I can create with a poem."
In addition to various places the poetry in "Tallgrass Voices" evokes, the poems also explore themes common in this art form: identity, childhood, love, aging and nature.
"There are poems about love that endures and love that is lost, heartbreak and healing," writes editor Gary Lechliter in the book's introduction. "You will share the experience of family, some troubled, others held together by the land ..."
"I am really impressed with what Tom has done," Daldorph says. "The book is a wide range of different voices."
"Tallgrass Voices" is available at The Raven, 8 E. Seventh St.; Hastings, 1900 W. 23rd St., or direct from the publisher — Hill Song Press, P.O. Box 486, Lawrence, KS 66044.

Several of the poets featured in the book will gather for a poetry reading at 7 p.m. Sept. 9 at the Raven.