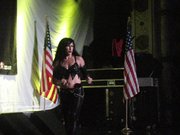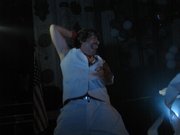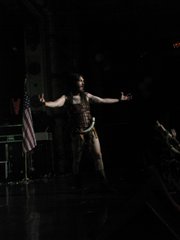 News flash for the world: Air Guitar is a sport. Many people would most likely be dumbfounded upon reading this — some would be offended. It's true that much of the world's population harbors reservations towards air guitarists for their seemingly gratuitous bravado and confidence that borders on egotism, and these reservations can fester into pure hatred if taken into account that many of these performers aren't even musicians at all. But to anyone present at the US Air Guitar National Championship in Chicago two Saturdays ago, the 22 performers were nothing short of bona fide rock stars.
Having competed in USAG competitions in the past, I have tried to understand the malignancy directed at air guitarists. Aside from the few who reside in the Windy City, all of the USAG competitors had to travel to Chicago from their hometowns at their own expense, with no hope of any financial compensation. Furthermore, most of them had to go back to work on Monday morning. In this world, there is a universal sentiment of air guitar's undying importance felt by every person who participates — a sense of community that rivals any other organization (local, national, worldwide or otherwise).
Despite negative reactions from most of the world, US Air Guitar is a continuously growing organization that helps bored or discouraged rockers live happy, healthy lives. What air guitar promotes is a way of thinking that has helped hundreds of people find their inner rocker — the idea that being a star is a state of mind.
My air guitar persona — Pork Sword — was invited to compete in this year's Dark Horse competition, a special event that gives losing regional competitors a chance to perform at Nationals. Unfortunately, due to a new employment situation, I had to decline. Still, the fact that I was invited at all was incredible to me, considering I didn't even make it to round two at the KC regionals. Other invitees included Peter Stiffdickens — who competed, but didn't make it to nationals — and The CorpAIRation, who didn't receive his Dark Horse invite due to technical difficulties. I didn't consider myself to be on the same plane as these gentlemen, so being invited was a huge honor. Plus, it lit that air guitar fire again, and solidified my decision to make a quick road trip to Chicago to watch the National Championship and root for my bandmate and air guitar cohort, Mean Melin.
This was not a trip to take alone, and I realize now I could not have asked for better traveling companions — Rachel Meyers (my favorite lady in the world) and three fellow air guitarists. Nielsen Nacis and Rachelle Landreth (Thunderball and Sonic Bitch, respectively) were one of the two couples to compete at regionals, and Whitney Young (Glory Wholesome) generously loaned her car and expert driving skills to assure we would make it to Chicago quickly, efficiently and cheaply. We split the trip up into two days so it would be "easier", or something like that. The first night, we stopped in Des Moines to hang out with Dead Girls homies North of Grand, who were playing an acoustic show at some awesome dive bar downtown. They even asked me to play a little acoustic set, which I gladly did – I was already feeling the rock monster creeping up on me, so even though it was an acoustic gig, I still considered it a chance to rock. Fittingly, I played an acoustic version of the Kiss classic "Strutter."
After partying the rest of the night, we were off to Chicago Saturday morning. Not surprisingly, we left quite a bit later than we had planned. Whenever I go to Chicago, I always plan to get there about two hours earlier than I do in the end, and as soon as I get there, I realize why that is the ideal plan. After all, Chicago is the third-largest city in the country, and one could come to this realization just from spending an hour or two stuck in its impossible traffic. On this second day of the trip, we all started with positive, optimistic energy. By the time we got to Chicago, all of that had depleted into a cabin fever-like insanity. As we pulled into Chicago, we all of a sudden hit the outgoing traffic from some soccer game that put every other traffic jam I have ever seen to shame.
It was around this time I started thinking: "What am I doing here?" Normally, my friends and I would make trips like this to go see actual bands playing actual live music (one of the last times I made a Chicago trip was to see The Jesus Lizard reunite at Pitchfork a few years back). Yet here we were, stuck in hellish five-mile traffic making our way to see 22 grown men and women pretend to play guitar for a minute at a time. I was beginning to wonder if all the money, all the gas, all the insanity was really worth it. But as soon as we made it out of traffic and into downtown Chicago, all those woes and worries were forgotten. Every block walked and corner turned revealed more and more of the laid back, rock 'n' roll-inspired culture I've come to expect from the city, and just taking it all in during the stroll to the Metro did more than enough to amp me up for the show. Of course, the Wrigleysville dogs we scarfed down at the legendary restaurant across the street before the show certainly helped.
The first performer who really stood out was Mr. Serious, who came third in the lineup. Not surprisingly, he came onstage dressed in a bleak looking suit and tie combo, seeming very uninterested in the whole affair. Readers not familiar with air guitar should realize it is common for performers to have some sort of shtick or gimmick, and even though it was simple in an obvious sense, Mr. Serious' routine was the first one of the night to really floor me. After hanging his jacket on an imaginary coatrack and staring with hellish eyes into the crowd as it fell to the filthy stage floor, he proceeded to rip off his pants and shirt and throw his lanky, pasty white body around with hellish fervor. Mr. Serious is the perfect name for this performer — not so much because of the suit and tie, but because of his stone-cold serious little beady eyes and unshaking, down-to-business demeanor. He didn't make it to round two, but I feel he should have.
The next memorable performance of the night came from Airistotle. While most of his fellow performers donned elaborate costumes and props that related to their inflated personae, this dude came out onstage in jeans and a white Sublime T-shirt. In talking with him after the show, he told me this was not purposeful – he actually forgot his costume, and opted instead to wear a t-shirt from his favorite band. For someone whose favorite band is Sublime, however, Airistotle could shred in a major way. In fact, this skinny, pasty-white kid in his early 20s blew the entire crowd at the Metro away. He set the bar for original moves and consistent slaying early on in the night. Airistotle's round two performance was breathtaking. Every competitor had to perform to Motley Crue's "Kickstart My Heart" and going second to last, he burst onto the stage with undeniable hellfire and immediately did two or three moves that wowed the crowd. Imagine Tina Turner dying and being reincarnated into the body of a skinny, nerdy white guy who has the natural propensity for shredding amazing metal air guitar. He was like a hair-metal legend with a little pinch of diva and a large scoop of nerd. Airistotle placed second overall, and his score was dangerously close to the winner's final tally.
Sometime later came Airosol, a tiny, fit, raven-haired dancer who has been a major USAG contender for years. After sitting out of the competition for a year, Airosol came back with a vengeance for this competition. Some might think that being a dancer would give contenders an unfair advantage, but Airosol was simultaneously tasteful, graceful and chocked full of airness. She did not rely on her dance experience to get through her routine. As a matter of fact, she is one of the few well-known air guitarists to possess a signature move — a roundabout windmill kick done mid-shred which has to be seen to be believed, and is certainly not something your run-of-the-mill dancer could execute. It was this move that sent her routine over the bar, but from the moment she took the stage, Airosol's precise and deliberate attack stole the attention of the entire crowd.
A few performers down the line and it was time for Romeo Dance Cheetah, the returning national champ. RDC is a man of many talents — his background is in the performing arts, such as dance and music, and he has toured the country in his own band, The Flavor Savers. But to see the man's air guitar abilities is nothing short of a wonder. In this routine, he maximized all of his possibilities — he was doing flips onstage, he had groupies in the crowd popping up on people's shoulders begging him for air kisses, and all while dressed in a skintight leather bodysuit of some sort. He has a knack for reeling in a crowd like they are about to become his dinner, and the crowd always loved it. However, this performance was somewhat lacking in actual air guitar. About halfway through it became apparent the dance moves were of more importance to him, and seeing how this approach won him the national title last year, I can't really blame him. That last criticism aside, it was one hell of a performance.
Later came Nordic Thunder, a name I had been hearing amongst the air guitar community for years. When his name was announced, I almost involuntarily let out an enormous yelp. It was as if I had been a fan for quite some time, or at least had seen him perform at one point, but I had not. Something about the presence and the entire presentation of this performer was spot-on perfect. Granted, being from Chicago, Nordic Thunder had immense crowd support, with many of them wearing T-shirts sporting the name and likeness of this air guitar hero. The most noticeable thing about this performer, though, was his lack of gimmicks. Sure, he had a great name and a great costume — a leather Viking warrior suit and awesome black beard — and he really knew how to sell his presence as this angry dude going to battle, which was aided by his priceless facial expressions. But that was it — there was no confetti, no flying props, no stage-diving, nothing. Nordic Thunder faced the crowd, dug his feet in as far as the slippery stage would allow and proceeded to kick ass and take names. It is already widely known that Nordic Thunder took home the championship belt that night, and it was very well-deserved. Even
amongst a huge collection of extremely talented air-guitarists, many of whom had extremely close scores, you could feel the energy of the Metro elevate during both of Nordic Thunder's performances.
About this time I realized that my friend and bandmate Mean Melin would hit the stage very soon. I knew he was up against some intimidating competition, but he has always seemed to feed off such things rather than let them affect him, so I was not worried. And I should not have been, because he came out and killed it — entering the stage in a red cape to the sounds of Queen's "Bohemian Rhapsody," Melin threw the cape off to reveal a pristine white suit. As the roar of the crowd began to die, he again removed his clothes, this time to reveal a devilish red shirt-and-pant combo, as if to illustrate his inner struggle between good and evil (or maybe just to show the world that he is, indeed, Beelzebub). It should be noted that Mean Melin is the only air guitarist I have seen to play an air gong, which is how he capped his epic performance. Unfortunately, while the crowd was more than supportive of Melin, the judges were quite harsh, though Hot Lixx Houlihan awarded him a near-perfect 5.9, the other two judges could only muster a 5.1 and 5.3. Crushed, Mean Melin left the stage with a hanging head, and just like that, the contender we all came to see and cheer for lost all hope in making it to round two of the competition.
When seemingly the whole world looks down on your way of having fun and releasing your demons — or whatever you call it — why shouldn't everyone who feels the same way stick together like family? After all, the only reason anyone talks down to this way of life is because they are scared of it. Even though no instruments are being played, it's still the rock and roll lifestyle, and there are people out there who are more than happy to live this way. Beyond that, there are people who will travel a 15-plus hour round trip to live this way, and harbor no regrets about it later. As I stood onstage air-shredding to "Free Bird" with all the competitors and at least 40 other air guitarists — including Thunderball and Glory Wholesome — it all came together in my mind that this really is a community.
Cameron Hawk is a guitarist for The Dead Girls, air guitarist under the alias Pork Sword and lover of all things rock