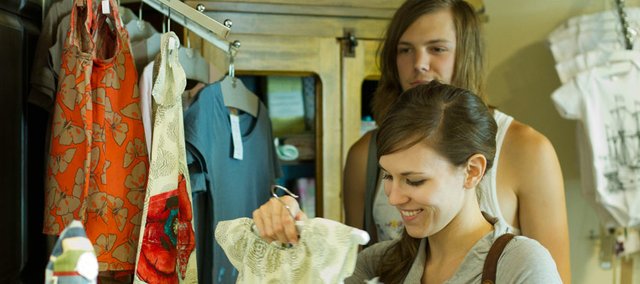 Wednesday, August 3, 2011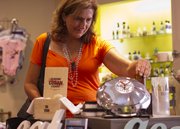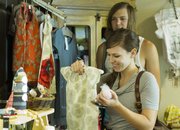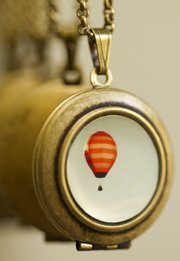 If handmade seems like a quaint idea bordering on kitschy in this day-and-age of Amazon.com and the online outlet store, you clearly haven't been to Made, 737 Mass., the newest gift shop in downtown Lawrence and the purveyor of everything and anything handmade.
Jewelry mingles with iPad cases. Sunny clocks and signs proclaiming "Geek" and "Eat" nestle near homemade soaps and lip balm. Cheery aprons stare down pillows. Wooden chandeliers hang over Absolut Vodka bottles that have been converted into vases. The total effect is one of both being in someone's home and browsing at a local craft fair. Nothing seems manufactured, per se, but rather — wait for it — made.
Like the works of art stocking the store, Made is the product of a long bit of planning and a lot of continuous love by owners Matt and Jennifer Richards. The concept grew out of Jennifer's passion for Etsy.com, a crafting site that allows artists to host websites and sell handmade goods in their own personal "stores." Jennifer joined a few years ago, setting up shop as Little Rory after finding success making handmade T-shirts for her son.
Selling was fine and good, but what she really loved was seeing the artistry in what everyone else on the site made. Same goes for the local producers next to whom Jennifer would set up shop during local craft fairs.
"When I would do the craft shows and people would stop at my booth, I'd mention Etsy and it seemed like everybody knew it and people love it. But people would say to me, 'I never think about it early enough to order,' or 'I'd love to order from them, but I want to smell it,' or 'I want to hold it and look at it and see the quality of it,' " she says. "Hearing those things from people, I just thought, 'Wouldn't it be great if we had a place we could go and you could see these things, grab it, take it home that day?' "
Making 'Made'
Running with that idea, the Lawrence-based couple tossed around the idea of a handmade shop with the truth that, after 12 years as a lawyer, Matt was looking for a career change. In the spring, the couple found the perfect place for their fledgling business in a downtown space that had previously been home to an eye doctor. The broad windows provided a great avenue to attracting window shoppers and the shelving — meant for glasses — turned out to be perfect for displaying items of all shapes and sizes — and an ever-changing inventory.
"I try to order in small quantities because we don't have a warehouse to store it and a lot of times, the people I'm ordering from, the vendors, have another job, so I don't like to hit them with an enormous order," Jennifer says. "But if something sells really well, we might get them again. Some things are one-of-a-kind and we can't get them again. But if we are going to get it again, usually, because it is handmade, it takes weeks."
Also adding to the changing inventory are products from local vendors. Every day, Matt, who mans the counter full-time (Jennifer still works part-time as an accountant), meets and greets a handful of artists who stroll in to inquire about selling their wares.
"In one month, we've probably doubled the amount of local people. ... We get four or five people a day that come in," he says, just after taking a photograph of the work of a walk-in artist from Rossville. "We've had jewelry, photographs, pillows, T-shirts, purses — probably 10 percent (on the floor). But it's going to go up a great deal."
Making a connection
Store fan Taylor Hrabe says she's asking for Made gift certificate for her upcoming birthday.
"I work downtown, just a few stores away from Made. It's becoming a habit of mine to browse Made's wares before I go to work. I love it," she says. "The first time I went in, I was talking to the two that own the shop and mentioned something about steampunk items. The woman not only knew what I was talking about, but immediately began showing me around the store, and pointing out various items of a steampunk nature that I might be interested in."
The couple says that introducing customers like Hrabe to new things they love is on the same plane as ordering from a part-time artist hoping to make it full-time in the future.
"I'm happy to buy things from other people. We really like to support people doing what they want to do. Some of them, making the products they make that we have here, that's their full-time job. A lot of husbands and wives, that is what they do. That's their day job. But then there's other people who work a day job but make dog collars at night or they sew in the evening. So, it's nice to work with them," she says "It's nice to give them some income from something they enjoy doing."
More like this story on Lawrence.com