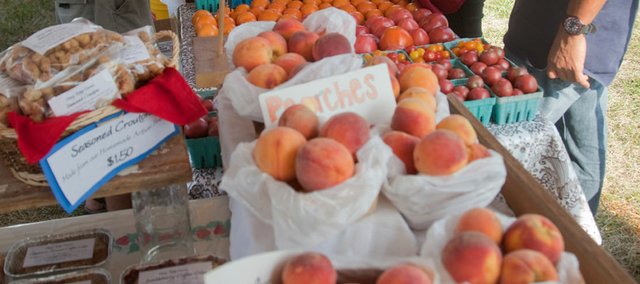 2011 Eat Local Challenge participants
Farmers' markets and stores
Lawrence Farmers' Market — Tuesday, Thursday and Saturday
Cottin's Farmers' Market — Thursday
Perry-Lecompton Farmers' Market — Friday
Pendleton's Country Market — Monday-Saturday
The Merc — Monday-Sunday
Restaurants
715, 715 Mass.
Free State Brewing Company, 636 Mass.
Pachamamas, 800 N.H.
Global Café, 820 Mass.
WheatFields Bakery and Café, 904 Mass.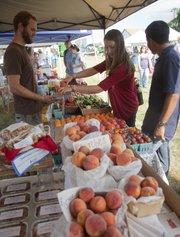 Eating local doesn't have to be a well-meaning drag on your wallet.
In fact, it could put money in your pocket.
Really.
Those participating in the fourth annual Eat Local Challenge through The Merc, 901 S. Iowa, can earn a $5 token good for treats from the Lawrence Farmers' Market just by completing the challenge which runs Aug. 13-28. To complete it, you just have to fill out a local foods passport with stickers earned from buying local products, restaurant meals or taking a pretty picture of your garden.
Thus, local food on your table can equal money in your pocket.
"We're happy to, with the help of our restaurant partners, buy (tokens) for everybody," says Josh Kendall, brand manager at the Merc. "Because we really feel the best sort of prize for eating locally is to eat more locally."
Since its inception, the challenge has run late in the growing season to encourage Lawrencians to buy locally when area produce is most productive. It's seen many iterations, and this year has its fair share of changes. For the first time, home gardeners can get credit for eating out of their garden and home chefs have a chance to show off their skills during a local foods potluck. These changes are in addition to the token award, which is also new this year.
And while you're earning a bit of money, you don't have to spend a lot of money, either.
Whether you're trying to complete the challenge or not, it's often not more expensive to buy from local farmers and restaurants, especially if you buy seasonally. Here, we look at how you can save while taking the Eat Local Challenge (or year-round), as divided by the ways to earn your seven challenge stickers:
Shopping farmers markets: Going straight to the farmer makes your money count. You might pay less than you would anywhere else and you'll know every dollar you spend will go directly to giving the farmer a good wage, not to the many variables that dictate pricing for many national products. So says Julie Mettenburg, a farmer and coordinator for Our Local Food — Kaw River Valley, which identifies and promotes local food within the region.
"We set our price based on what gives us a fair price for the work that we do. And it helps the consumer by a local food at or just below the supermarket price but we capture all of those costs that would have gone into the supermarket's distribution chain and marketing and packaging," says Mettenburg, who raises grass-finished meat at Mettenburg Farm in Franklin County. "So, by capturing that and giving it to the local farmer, we really help build our local farm economy, which builds, also, our local economy."
Buying local goods from The Merc: If a trip to the market won't do, a trip to the Merc is a must if you want to buy local goods. With more than 800 local products — defined as produced within 200 miles — there are tons to chose from, many adorned with the Our Local Food — Kaw River Valley insignia. You can get fresh produce, bulk Kansas wheat flour, local eyes, honey and other staples and save money by making meals at home.
In tandem with the challenge, Kendall says the Merc has permanently lowered prices on many of their local foods. It's a conscious choice to make the goods competitive with national brands.
"There's a lot of products on our shelves that we're dropping 10, 20, 30 cents, if possible," he says. "It just makes it so the product more affordable ... so that they can sell more and do more business."
Once you've got a handle on cooking with local ingredients, get creative. If you suss out a great recipe, consider entering it in the recipe contest associated with the Eat Local Challenge Community Pot-luck on Aug. 21 at Centennial Park. The winner of the contest gets a $50 Merc gift card — yet another way to save money/make money buy eating locally. Also, those attending the potluck who bring a dish containing local food get a sticker for their passport.
Heading out to participating restaurants: If cooking at home isn't your bag and you're a regular restaurant consumer, your bill's not going to go up to eat locally.
All you have to do is spend your restaurant dime on meals featuring local ingredients at 715, 715 Mass.; Free State Brewing Company, 636 Mass.; Pachamamas, 800 N.H.; Global Café, 820 Mass.; and WheatFields Bakery and Café, 904 Vt. Each meal can earn you a sticker.
Taking a picture of your home garden: This has to be the cheapest way to eat local. Just throw some seeds in the ground and watch them grow.
You may have an indoor or outdoor herb garden. Or a patio tomato plant. Or an entire bed of potatoes, peppers and tomatoes that are thriving. Snap a pic, bring it into the store and earn a sticker.
"We realize that people grow their own food as well to supplement their local food needs," Kendall says. "So by opening it up to people's ability to take pictures, it's a way to earn credit for the hard work they've been doing all season."
No garden yet this year? It's not too late. Grab some late-season pots at a discount and rescue some rangy herbs or annuals from the nursery compost pile. Even better, buy them from plant vendors at the participating farmers' markets or Pendleton's Country Market, 1446 E. 1850 Road. Also, later in the challenge is the perfect time to ready seedlings for fall greens like lettuce, kale, chard and spinach.
And, chances are, even a mini garden will keep on putting local food on your table long after you've gotten your seven stickers and spent your $5 token.