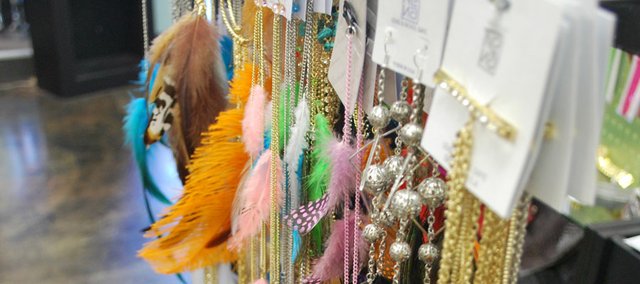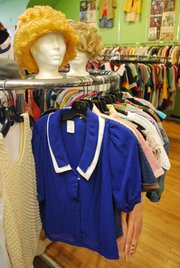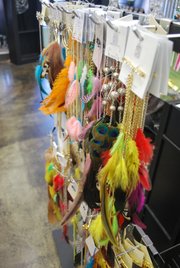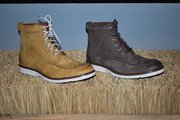 After a couple months of pool parties, Red Dog Days, vacations and back yard barbecues, the youth of Lawrence is heading back to school. For weeks, grocery stores and shoe outlets have advertised back-to-school specials — spiral notebooks, mechanical pencils and two-for-one deals have taken over the seasonal aisles all over town.
And back-to-school shopping doesn't stop at new binders and school supplies. Lawrence retailers notice an increase in business from the young and fashion-forward teens and young adults looking to update their school wardrobes with new clothing and accessories of the latest style.
For girls and boys alike, comfortable clothing and classic basics are school wardrobe essentials. Well made denim with a good fit tops most every school-goers list. "This fall denim is clean. Distress just isn't as important as it once was," explains Shauna Swanson, denim guru and manager at hobbs, inc. "Skinny jeans are still important, as are straight-leg jeans. But this fall we are excited because flair and boot-cut jeans are showing up in full force. And while denim is a staple — always will be — khaki is huge for fall 2011." Khakis have been around a long time, but the rise in popularity may be reflective of the times. "I think that people are ready to mix it up a little," admits Swanson, "and khaki is an easy way to do that."
Indeed, many students in Lawrence are branching out to define their back-to-school look. "Urban Outfitters has outlined major fall trends for their shoppers on their website," explains Garrett McGraw, men's department manager. "If you're drawn to a particular style, you can easily create an outfit and know it's hip." Presented are three major trends for women and two for men, trendy looks form genres like 'Art Student League,' a preppy/academic womenswear look, and 'Marine Nationale,' a classic menswear look with a utilitarian, naval twist.
To create a more distinct back-to-school style, vintage shopping is popular among Lawrence's student population. During the summer, shops utilize their brief reprieve from the larger Kansas University student population.
"We stuff the store with merchandise over the summer," says Holly Charlton, Wildman Vintage employee. "We stock up on western shirts, skirts, accessories … everything that's awesome." The shop appeals to the college-crowd, and when the students return they can expect a huge array of unique merchandise.
"This year we've done something a bit different, too," says Wildman Vintage owner, Phil Chiles. "We purchased dead stock inventory from a clothing store. We have tons of unworn pieces from the '60s and '70s." Here especially, Chiles is right on-trend, as '70s silhouettes and wide-leg trousers reemerge as a popular style for Fall 2011.
Not unlike Wildman Vintage, other local shops are prepared for student shoppers. "We've stocked up on backpacks in a variety of styles and colors from The North Face and Patagonia for the upcoming school year," says Sunflower Outdoor & Bike Shop manager, Jen Beck. "In terms of jackets and fall apparel, we should be expecting great outdoor brands such as The North Face, Patagonia, Columbia and Marmot to start trickling into the store as the weather cools down." Sunflower caters to high school and college students, selling popular backpack brands and lifestyle apparel.
And while fall marks a change in the realm of fashion, it also represents a fresh start, clean books, blank slates.
And KU Student Bodie Agada is ready to hit the books and sport a fresh, new style. "I'm going to pick up transitional pieces in consideration of our extreme weather," says Bodie Agada, KU student and Lawrence resident. "Lightweight sweatshirts, jackets and basic button downs will be key." Agada jokingly describes his stepped-up, back-to school style as 'ivy-league swag.'
"When in doubt," he adds, chuckling, "know that a dark, slim pair of jeans always looks good."
More like this story on Lawrence.com