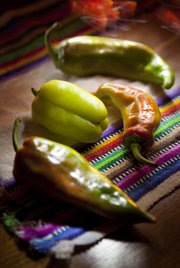 Frying peppers
What they are: Frying peppers are sweet peppers with thin walls that sometimes look like hot peppers or like smaller versions of bell peppers. They are generally cone-shaped, Italian in origin and are both sweet and mildly spicy. They are sold green or red and are best with fried, sautéed or used in homemade Italian red sauce.
Season: Available fresh locally July through September.
Nutrition: 1 cup sliced pepper has about 29 calories, 2 grams of fiber, no fat, 58 percent of your daily vitamin A and 196 percent of your vitamin C, according to NutritionData.com.
How to pick and store: Pick peppers that are firm and smooth with green stems. Avoid those that are soft, spotted or wrinkled in appearance. Don't wash them until you're ready to use your peppers. They will keep a few days in the fridge.
— Sarah Henning
Recipes
Frittata with Sweet Peppers and Summer Squash
1 tablespoon olive oil
4 green onions, chopped
4 frying peppers, seeded and chopped
2 small zucchini, chopped (nice to have one each of green and golden)
2 teaspoons finely minced fresh oregano
3/4 teaspoon salt
6 eggs
1/2 cup lowfat milk
1/2 cup grated Fotina cheese
1/4 cup freshly grated Parmesan cheese
Freshly ground black pepper
Heat olive oil in a medium-sized skillet over medium heat. Add onions and lightly sauté for 1 minute. Add peppers, zucchini, oregano and 1/4 teaspoon of the salt. Sauté for 4 to 5 minutes or longer or until zucchini is just beginning to brown. Remove from heat and set aside. Preheat over to 350 degrees. Beat eggs with milk and the remaining 1/2 teaspoon of salt. Add the cheeses and black pepper. Stir in the begetable mixture. Pour into a lightly oiled 10-inch round baking dish or cast iron skillet and bake for approximately 40 minutes or until just set. Cut into wedges and serve hot from the oven. Serves 6.
— Recipe from Nancy O'Connor's "Rolling Prairie Cookbook."
Fresh Mozzarella and Pepper Sandwiches
1 teaspoon olive oil
4 frying peppers, sliced in slivers
Several leaves of fresh oregano, minced
4 soft Italian rolls
6 ounces fresh Mozzarella, sliced
8 to 12 slices garden-fresh tomatoes
Fresh basil leaves
2 to 3 tablespoons pesto
Heat olive oil in a small skillet over medium heat. Add peppers and fresh oregano. Sauté until just tencder-crisp. Remove from heat and set aside. Slice rolls in half. Arrange slices of Mozzarella, tomatoes, and basil leaves artistically on bottom half of bun. Mound sautéed peppers on top. Top with several teaspoons of pesto. Serve with top half of roll on the side. Makes 4 sandwiches.
— Recipe from Nancy O'Connor's "Rolling Prairie Cookbook."
Italian Sausage Sandwich
6 mild Italian sausages
2 cups water or beer
2 cups thinly sliced green peppers
1 cup sliced onion
2 tablespoons extra-virgin olive oil
1/2 cup chopped fresh tomato
3/4 teaspoon sea salt
1/2 teaspoon freshly ground black pepper
6 sourdough rolls, split
6 slices provolone cheese, halved
Place sausages in a large saucepan; add water or beer. Bring to a boil then reduce heat; cover and simmer for 10 minutes. Drain sausages and discard liquid.
Meanwhile, in a large skillet cook green peppers and onion in oil until tender. Add chopped tomato, salt and pepper; heat through.
Grill sausages, covered, over direct medium heat for 7 to 12 minutes or until browned and cooked through, turning occasionally. Place a sausage or split sausage in each roll with provolone cheese. Top with green peppers, onion and tomato mixture and enjoy.
— Recipe from Nancy O'Connor's "Rolling Prairie Cookbook."
You probably know a bell pepper on sight. A jalapeño, too. And maybe a poblano if you're into that kind of thing.
But is that Anaheim really an Anaheim? Are you sure. Really sure? Because you might just be in for a sweet surprise called a frying pepper.
Frying peppers are the general term for several different thin-walled, small peppers, many of which would look just like an Anaheim or a pale poblano or monster jalapeño if put in a lineup.
Even a farmer might not pick out the right one.
"Actually, one reason I don't do the fryers is I don't want to mix them up," says Hoyland Farm's Bob Lominska, who grows Anaheims but not fryers. "It's like, you don't want to do banana peppers and Hungarian Hot Wax, because people who don't like hot peppers don't want to be surprised."
Nancy O'Connor, director of education and outreach at The Merc, 901 S. Iowa, says when she wrote her popular local produce book, "Rolling Prairie Cookbook," one of the specific requests from the farmers backing her was for her to write recipes and instructions pertaining to the frying peppers.
"There's that whole category of peppers that aren't bell peppers and aren't distinctive hot peppers, so they seem for many consumers (to be) just a mish-mash," she says, adding customers are usually more "confident" with peppers they know like bell and jalapeño. "I think it's daunting because I think if a customer sees a small pepper, they assume hot and that's not necessarily the case."
Nope, frying peppers, whether green, red or somewhere in between are actually very mild. When sautéed or fried, they are as sweet as anything shaped like the more familiar bell.
"I like to tell people they're spicy without being hot," says Mark Lumpe of Wakarusa Valley Farm.
Lumpe produces a large amount of frying peppers. He started growing them 15 years ago at the request of his mother, who loves to fry them up with onion and garlic before freezing them for the dark days of winter. He buys seeds in the "corno di toro" or bull's horn family.
"That's kind of what they look like," he says. "They have broader shoulders versus an Anaheim, which are more of a slender type."
Despite growing them for so long even he has to be very careful not to confuse them. He says he picks, washes, bags and boxes the fryers separately from the Anaheims he grows.
O'Connor recommends that for those wanting fryers and who worry about ending up with something too hot should take care to talk with a farmer if possible and know exactly what you're buying. She suggests starting at a farmers' market where you can ask about a pepper's qualities.
If you do end up with a mystery pepper, O'Connor recommends placing it on a plate and cutting off the tip. Hold that small piece to your tongue to test for hotness. You should know right away whether you have a hot pepper or a milder frying pepper. The reason to use a plate and not a cutting board is because a cutting board can absorb the juices and if they pepper is hot, it will affect the flavor of other items. She says if you use the plate method, this won't be a problem because it will be isolated and the plate isn't porous like the cutting board. If the pepper is hot, just cut it as preferred on the plate and then slip it in the dishwasher the second you're finished with it to avoid cross-contamination.
O'Connor says that while it might seem like a lot of work to enjoy these little peppers, between picking the right ones and preparing them, they're totally worth it.
"They're little — so they take a lot more work proportionate to what you get out of them," she says. "You still need to cut off the top and take out the seed cavity, but probably the big advantage is that they're mild and thin-walled, so they cook really sweet."
More like this story on Lawrence.com