Thursday, August 18, 2011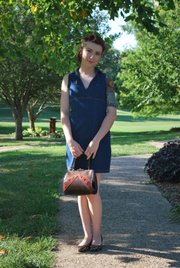 Name: Jen Young
Age: 26
Sign: Sagitarius
Relationship status: Married
Hometown: Kearney, Neb.
Time in Lawrence: Three years
Occupation: Bar wench at The Pig, photo geek for Atomic Photography, cake decorator/designer for Mama B Bakin' and dancer/entertainer for Foxy by Proxy Revue.
What were you doing when scouted? Putting up fliers around town for our Foxy Show on Saturday.
How would you describe your style? Doris Day meets Huckleberry Finn
What are your current favorite fashion trends? Funky tights, broaches, beards and smiles. 
What are your least favorite fashion trends? Words on butts and bad attitudes.
What would you like to see more of in Lawrence? Responsible young adults.
What would you like to see less of in Lawrence? Orange cones and vacant spaces downtown.
Do you have any piercings or tattoos? Six tattoos, three piercings.
Do you have any fashion influences? Miss January Jones and Shelly Long in "Cheers."
People say I look like… Flo the Progressive lady.
Tell us a secret: I love Bad Girls Club.