Wednesday, August 24, 2011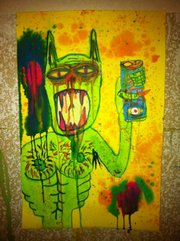 Somewhere in the recesses of Lawrence artist Jason Barr's mind, there's a party raging into the wee hours of the night. Boisterous angels and demons carouse about, indulging in drugs, sex and general debauchery. And with his newest exhibition, "Heaven Party," we'll have the chance to look in on the celebration.
The half-dozen paintings in "Heaven Party," opening this Friday at The Bourgeois Pig, 6 E. Ninth St., will serve as snapshots from those festivities, catching the participants doing things they probably won't remember the next day.
Barr did all of the paintings with watercolor, though he says he tends to use it more like people use acrylic paint, barely watering it down so it stays thick and keeps vivid color. He says he likes to let the colors bleed together until they look something like a tie-dyed shirt.
"I feel like I'm winning when I feel like I'm designing Zubaz pants," Barr says.
Though treated with humor, the pieces that make up "Heaven Party" are the product of Barr's rumination on some serious subjects, including spirituality, sex and mental illness. Barr grew up in a conservative family and has strong religious roots. He says creating these pieces served as a form of catharsis, allowing him to express feelings that he often has a tendency to suppress.
"We all just hold back and self-censor, especially with things like religion, sex and drugs," Barr says. "I'm just trying to address some serious topics in a fun way."
Barr says "Heaven Party" is also about overcoming some of his artistic roadblocks, particularly fear of censure for making artwork that could be deemed inappropriate. He says he's often kept his more racy work out of the spotlight, but he's trying to let go a bit with this exhibition.
"I'm intentionally making a show that makes me uncomfortable," Barr says.