Wednesday, August 24, 2011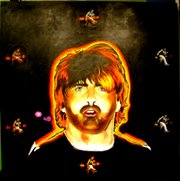 Lawrence art lovers will have the opportunity to view work by more than a dozen artists under one roof during the "Just Hangin'" exhibition at the Q5 Gallery in the upper level of Quinton's Bar and Deli, 615 Mass.
The five Fresh Produce-affiliated organizers of the gallery, Leo Hayden, Erok Johanssen, Rachel Herring, Bobbie Powell and Brent Teufel, have put on several of these salon-style exhibitions for prior Final Fridays, with as many as 25 artists participating at once. Each of the artists in this month's event will be showing between three and five pieces.
On display from Hayden will be his latest in a series of Twitter-inspired paintings, each a portrait of an active Twitter personality (past subjects include local DJ/producer Phil Canty and author Neil Gaiman). This time around he's painted Lawrence film critic and air guitar extraordinaire Eric Melin.
In addition to all the art up for view, gallery-goers will have the chance to contribute to the exhibition at the Drink and Draw artist-collaboration board. Some supplies will be provided, though visitors are encouraged to bring their own.