Photo Gallery
2011 Kansas State Fiddling and Picking Championships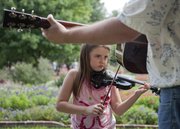 Live music and the smoky smell of grilled food filled South Park during the 31st annual Kansas State Fiddling and Picking Championships on Sunday.
People of all ages came to watch the eight competitions and four concerts on two stages. In addition to the organized performances, groups of musicians played together away from the stage. Fiddles, mandolins, banjos and guitars were a common sight.
"The food is great, and South Park is a great place," said Jerome Barnard, a Topeka resident who came with a friend to see Billy Spears and the Beer Bellies perform.
The festival is sponsored by the Americana Music Academy, 1419 Mass., to promote acoustic music in Lawrence.
"We see music as part of the community, something to do and not just watch," said Gayle Sigurdson, the event coordinator.
Sigurdson has coordinated the event for the past three years and attended the event since it began in 1980.
Tricia Spencer, from Lawrence, has also attended most editions of the festival. As a child, her family came to watch her grandparents fiddle. She learned the instrument from her grandparents and has competed for the past decade. She hoped to win her first state championship on Sunday, a feat her grandfather accomplished more than 20 years ago.
While Sigurdson was busy running the event, her husband, Steve Mason talked to what seemed like everyone he ran into. He is a fixture in the local music scene: He owns a string-instrument repair shop, plays every instrument he can fix and has even won a few state championships himself. Mason has deep roots with acoustic music in Kansas and can recall Lawrence's first fiddling competition in 1976. He said there was a hope for every county in the state to have qualifying events for a larger state championship, but that never happened.
"It became clear that if there was going to be a state championship, it had to be in Lawrence," he said. "It's not so much the musicians in Lawrence but more so the people with the organizational skills."
What's Mason's favorite part of the festival? The camaraderie, he says.
"Learning to play music is like learning a language, and today you get to meet with people who speak that language and talk," he said. "That's what jamming is all about."