Thursday, December 1, 2011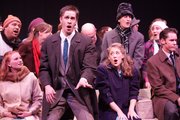 Charles Decedue is ready for an audience. He knows his lines, his cues. He has tightened and polished his delivery. Now it's time to perform.
"As you get close to opening night, rehearsals become unbelievably tedious and ... you don't know what's going to happen until you have an audience," says Decedue.
Decedue, who is playing General Waverly in Theatre Lawrence's rendition of "White Christmas," will soon have his audience. The show opens on Friday.
"White Christmas," is a musical modeled after the 1954 movie of the same name. The film version was an accompaniment to the hit song written by Irving Berlin. The song is the best-selling single of all time: it has sold more than 50 million copies. And the film was written in response to that success. Both the song and film spawned the recent musical, which is still fledgling. It debuted in San Francisco in 2004 and played on Broadway for the first time in 2008.
Quinn Wasson plays the role of Phil Davis (Danny Kaye in the film). Wasson, 22, watched the Broadway production while he was attending Pace University in New York City. That was back in 2009, during the musical's second run. He also grew up watching the film with his grandmother. So he was acclimated with the story before tryouts. It's Wasson's first show in Lawrence since graduating college.
"It's just really fun to do a show and get back to Lawrence and reacquaint myself with the theatre scene here," says Wasson. "(White Christmas) is a classic, and there is certainly plenty going on — there is a big dance number and big tap number and I think plenty of stuff to keep people entertained."
A defining element of the musical is its complexity. It requires multiple scene and costume changes. And given that the performance is taking place at 1501 N.H. — in a building originally designed to be a church, not a theater — cast and crew have had to be creative.
"There are a lot of set changes and a lot of costume changes which are always a challenge in our itty bitty space," says Mary Doveton, director of Theatre Lawrence.
There are two official dressing rooms in Theatre Lawrence: the men's and the women's. The men's dressing room, for instance, is approximately 10 by 12 feet. It can accommodate three people comfortably. Yet for "White Christmas" as many as eight men would need to use it simultaneously. Many cast members create make-shift dressing rooms.
"In a play like this, in a space that wasn't purposely built as a theatre, the lobby becomes a dressing room, the main office becomes a dressing room, and people are changing costumes all over the place," says Decedue. "A couple of changes occur so quickly we have to have dressers: someone there to help them slip out of the one costume and into the other."
On opening night actors and actresses will be dashing back and forth backstage, hustling up and down stairs, peeling one costume off while pulling on the next. Half-dressed people will be shuffling and stumbling and scampering to their spots. Ties will be askew, shirt tails will poke out, collars will stick up, and hair will be tousled and in disarray. But the audience will see none of this.
"A play like this is really a coordination nightmare," says Decedue. "It requires a lot more technical rehearsals than usual. Getting the sets changed and getting all of the props on stage in the right place at the right time, it's just a coordination nightmare."
The costumes, designed by Lisa Greenwood, are designed to evoke an historical period: the 1950s post World War II era.
Greenwood used vintage sewing patterns from eBay to create puffy blue dresses with white bows and blue roses, which will be worn by the sisters in the play. And for the military uniforms, she decided to evoke the era conceptually rather than aim for complete historical accuracy.
"With a show that is as iconic as this one, it's alway a challenge for a costumer to give the audience what they expect while also giving them something exciting and new that will be just as good," says Greenwood. "I hope I've done that."
Audience members can make that call on Friday. And Michael Hagen, who plays Bob White in the musical, is eager for the theater to be filled with people.
"It's definitely better when you have an audience,," says Hagen. "I don't deliver until I get an audience."