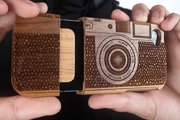 My parents, relatives and wife know I like photography. But they seldom buy me photo gear or gizmos. I guess they figure I have everything I need or if not I'll buy it myself. More likely, they don't know what to get me. To help them out, and help you shape a gift list for a photographer friend, here are a few ideas:
Bags
I currently have more bags than cameras and I don't need another. But Crumpler has a nice line of shoulder/messenger-style bags they call their Million Dollar Home series. From the 1 Million to the Brazillon Dollar, they have a bag for every amount of gear and price range. In the middle is the 5 Million, a mid-size bag good for a camera, lenses and a day on the town. $85, crumpler.com/US/
Wearable
While taking photographs, why not be fashionable? Go to http://www.cafepress.com/+photography+t-shirts and check out a great selection of shirts with photo phrases and retro camera graphics that only your photo friend will understand. I like the shirt with an image of an old Rolleiflex camera. $25
Accessorize
For the camera enthusiast who owns an iPhone 4/4S, you might stuff his or her Christmas stocking with a classy walnut wood iPhone case carved like a camera. $42, photojojo.com/store/
Show Off
A digital photo frame is a good gift to give a photographer or for a photographer to give. They display downloaded images in repeatable slideshows with adjustable times in seconds or hours with transition effects. It's like having rotating artwork for your wall or desk. I've read good reviews on the Sony DPF-D95 9-Inch digital photo frame. Around $70, http://amzn.to/rGbylJ
Stamp It
For the do-it-yourself camera artist, the website Photographer's Edge (photographersedge.com) offers a way to turn personal photographs into greeting cards and calendars. If you or your friend already make cards, how about a rubber stamp for your products? This site has a simple "Original Photo by" rubber stamp for $8.95.
Just Looking
If your friend is more a fan of looking at good photography rather than creating it, consider a book or magazine that'll keep on giving.
"Magnum Contact Sheets" — This heavyweight contains 139 contact sheets, or series of negatives from a roll of film, that contain well-known images from Magnum Photo agency photographers, including Henri Cartier-Bresson, Robert Capa and Elliott Erwitt. Covering subjects and events from the 1930s to recent years, the contact sheets display famous images alongside the outtakes.
"Vivian Maier: Street Photographer" — Maier, a professional nanny in Chicago in the '50s and '60s, was an untrained, undiscovered artist until after her death in 2009 at the age of 83. Hundreds of thousands of her photographs were found in a storage locker, and now she is being compared to the great photographers of the 20th century.
LensWork — A bimonthly magazine that focuses on photography and the creative process, with articles, interviews and portfolios. While the magazine focuses on B&W; work, a downloadable digital subscription offers extended coverage and work. Through Dec. 31, a year subscription is only $25. lenswork.com

Shhh: I won't tell if you buy some of these for yourself. I did.
— Chief photographer Mike Yoder can be reached at 832-7141.