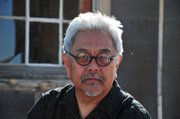 Roger Shimomura had just finished meeting with officials at the National Portrait Gallery in Washington, D.C.
The Smithsonian leaders were lobbying him to donate one of his iconic paintings, "Shimomura Crossing the Delaware," to the gallery's permanent collection.
"I was not sure," Shimomura says. "It's a $50,000 painting, and I passed up on a couple of opportunities to sell it because I want it to end up in a museum. Fifty thousand dollars is a lot to give away. Thirty minutes later, Amada Cruz, the head administrator for the fellowship, was on the phone telling me I won this $50,000. I thought maybe it's a sign."
Cruz is program director for United States Artists, a Los Angeles-based nonprofit that provides $50,000 fellowships to artists in a variety of fields. Shimomura, a retired Kansas University art professor who lives in Lawrence, was one of 50 recipients of this year's awards.
Those 50 were honored Monday night in Los Angeles.
The USA Fellows program is different from many grants or fellowship programs in that nominators remain anonymous, and the awards aren't based on any particular proposal or project. Rather, they're based on the artists' past work — a lifetime achievement award of sorts.
"I'd be lying if I didn't say I thought of it that way," Shimomura says. "I'm 72 years old, and anything that comes my way I feel is for the body of my work. I'm not doing anything different now than I was doing 30 or 40 years ago. It's the same type of work, and what I'm addressing is the same."
Shimomura was born in Seattle but spent two years during World War II — starting when he was 2 — with fellow Japanese-Americans at an internment camp in Idaho. That period, brought to life through his grandmother's diaries, helped fuel his lifelong artistic endeavors.
Shimomura has three traveling exhibitions that represent his life's work:
• One dealing with stereotypes of Asian-Americans, which also includes his collection of artifacts showing caricatures of Asian-Americans.
• A second dealing with the incarceration experience during World War II.
• And a third called "An American Knockoff," featuring self-portraits depicting himself as "the subject of derision, humor and predilection." Several of these paintings currently are on display at the National Portrait Gallery as part of its "Asian American Portraits of Encounter" exhibition.
Shimomura retired in 2004 after a 35-year teaching career. He says he doesn't miss the grind of teaching, and retirement has allowed him to be busier than ever as a painter, lecturer and artist-in-residence across the country.
"There is some clarity I paint with now that wasn't there before," Shimomura says. "A lot of that is based on lecturing so much, traveling around and hearing myself talk about it, and responding to people's questions and their own responses to exhibitions, and so on."
Also to fuel his creativity, Shimomura keeps a close relationship with the Japanese-American community in Seattle, and he travels to Minidoka, Idaho, for an annual reunion near the camp where he was incarcerated as a child.
Though Shimomura's works continue to explore the same issues he's examined for most of his career, he is considering a slightly new subject. He's concerned about some people's reaction to Muslims and Arab-Americans following the 9/11 attacks. He had similar concerns following the Iran hostage crisis and Operation Desert Storm.
"I did two or three paintings after 9/11," he says. "I drew comparisons about what happened at Pearl Harbor and what happened at the (World) Trade Center, to warn about making all of the same assumptions — assuming everyone being guilty. The paintings were meant to bring that subject up."
Though those works were relatively small and simple, Shimomura says he foresees a larger painting about the issue in the future. And the $50,000 award from USA Artists may help make that a reality — though he's still considering donating "Shimomura Crossing the Delaware" to the Smithsonian, as well.
Either way, Shimomura says he's appreciative of his newest honor.
"Being a person on fixed income at this stage," he says, "who can deny that amount of money?"