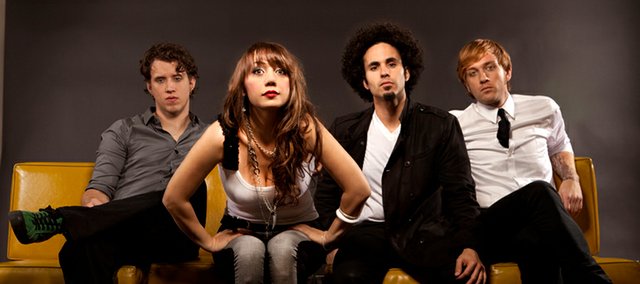 At first glance, New York band Me Talk Pretty looks like any number of alt-rock radio darlings that populate Twitter feeds, Facebook pages and MTV, if the network ever snuck music videos in between episodes of "Teen Mom" and "Jersey Shore." But looks can be deceiving. The band, led by Uliana Preotu, a Romanian-born singer who moved to the U.S. during her teens, features an almost staggering level of bombast. And the songs themselves tend to carry a positive or motivational message. It's a message informed by Preotu's culture shock of coming to the U.S. and guitarist Leon Lyazidi's frustrations in school before he decided to leave the beaten path and pursue music. Before the band brings their Wake Up 2011 tour to the Granada, 1020 Mass., on Dec. 15, they talked with Trevan McGee about being a young band, the American dream and their new record.
Trevan McGee: Were you fans of any of the bands prior to this tour?
Leon Lyazidi: Yeah. Absolutely. We were familiar with all of them. We own all their records. We hand-picked them and we were very excited to have them as our support bands for this tour. Obviously New Years Day is another great female-fronted rock band. Hell Or Highwater with Brandon (Saller) from Atreyu as the lead singer and then Madina Lake has obviously been around and is a great band and has had kind of a rollercoaster with personal issues with their bass player and I'd like to see them back on stage and fully recovered, 100 percent.
Uliana Preotu: It's definitely one of those tours that everybody has a huge incentive to be on stage and prove a point and prove themselves and for all the bands on this tour, it means a lot to be a part of this. That's another reason why we chose the bands to be on this tour.
TM: Uliana, you were from Romania originally before coming to the U.S. with your mother. Was there a bit of culture shock?
UP: Oh my god, yes. It was a huge culture shock. I came to the United States about six years back. I did not speak any English. I did not know what to expect. My mom was already here. She was remarried. So when she brought me, she kind of taught me what she could.
But obviously, I started from zero and I wanted to be in a band and I made a decision to move to New York City where I had seen a lot of activity in the music world and so it's been a very difficult road. A lot of people cannot even imagine how I got here, but it started with learning the language and auditioning for bands. (I was) Getting turned down because one, I didn't speak the language and two, I was a female and most rock acts were looking for a male leader of their band.
I have to tell you that here I am today headlining our own tour and I'm living the American Dream. It's one of the most amazing things that could happen to a person like me, where I'm coming from, where I'm at. The American Dream, it does exist.
TM: Leon, you also came to the U.S. from another country, but you were much younger, correct?
LL: Yeah. I came here when I was six or seven. My family moved around a lot. I'm half-Morroccan, half-Spanish, so we lived in Morocco and Spain, France, Germany before coming to Florida when I was younger. A big connection that Uliana and I had when we first started was the immigrant side of it and the fact that ... y'know she had the accent and I can relate to that with my mother and it was easier to understand the art and hurt in her art. That's kind of the secret to the chemistry of our band.
TM: What were some of your musical influences growing up?
LL: I started playing piano when I was really, really young. When I was five or six years old. My parents were firm believers in music being a part of education and always thought there was a correlation between being a good student and playing music, so piano was a huge influence. I did a lot of classic piano stuff. Big recitals and things like that. I picked up the guitar when I was 15 or 16 years old. It was a natural progression. The melodies and notes an things like that came a lot easier because I started with piano.
One thing lead to another. You just get addicted to that drug of playing live music and watching live music. It's really difficult to explain. When you're there and you feed off the crowd, you get addicted to doing it.
TM: Was there ever a light switch moment, when you realized you wanted to play music professionally?
LL: Yeah. I was at NYU and I was studying medicine, doing more science stuff. As you can obviously tell, there's a huge shift in my direction from purusing medical school to going into music. There was definitely a light switch. It was a combination of things. Being in a situation where I was unhappy and kind of routine and also playing some local shows and really feeling some chemistry and liking what I was doing. So I just kind of put myself out on the ledge and things are working out great.
TM: There's a lot of energy in bombast in your songs. Where did that come from?
LL: There's a lot of emotion in our music and a lot of movement, but when you put emotion into the lyrics or in context with the music, it gives you another layer that we've always strived for. Our lyrics and our emotions are true. We're speaking to the working class. We're speaking to the immigrants and people who are working their asses off.
UP: The people who have had it hard in life.
LL: And real things. "Wake Up" is about the passing of Uliana's mother not too long ago. A lot of the other songs are things that have a lot of meaning to us that we went through as a band or personally or had friends go through. When you have that kind of serious conotation, it calls for a big sound or else it's going to sound funny.
TM: How hands-on are you both in the production process?
LL: The last album, "We Are Strangers," was produced, engineered and mixed by Noah Shain, a fantastic, up-and-coming producer who's done some great stuff. (He) worked on Atreyu, worked on Nico Vega, did some work with Skrillex. He definitely brought out a lot of the ideas and sounds that we had in our heads, but didn't know how to do. We definitely took our time with it, textured everything and got the proper sounds. (We) tried to use less synths and electronica. A lot of stuff that sounds like synths is actually guitars daisy-chained with different effects and then maniuplated in the computer after that.
The newer music that we're writing right now is a lot more straightforward rock 'n' roll for the radio and with a clearer message and in-your-face, which is the direction we want this band to go. Less alternative and more rock. Less veering in different directions.
UP: After sharing the stage with so many great bands, you get start to get a strong idea of who you are and where you want to be in the presence of these great acts. It sets a certain standard and it was part of the reason why we decided, "I think we want to be more rock 'n' roll. I think we want to rock faces off, this time."
More like this story on Lawrence.com