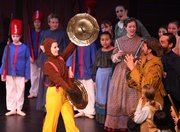 Recurring event
Lawrence Arts Center, 940 New Hampshire St., Lawrence
All ages / $12 - $18
Connecting two 19th century phenomena from across the world into one cohesive subject matter is nothing new to Ric Averill with his production "The Kansas Nutcracker."
Since 2001, when director and playwright Averill and artistic director Deborah Bettinger developed the idea for a Sunflower State-themed spinoff to Tchaikovsky's famous ballet, the Lawrence Arts Center, 940 N.H., has premiered the performance as a holiday treat for viewers young and old. This year, the performance will premiere Dec. 9.
Averill says the play will stick mainly to the original work, where the main character, Clara, has a series of fantastical dreams after a holiday party. The main difference here, he says, is that Kansan themes run throughout the play.
"We're still very much doing a classic," Averill says. "It's just something that makes it work in our environment and is very special to our community. It's absolutely some of the finest music that's ever been written. It's extremely memorable and deeply rooted in people's minds."
Averill says that for Kansas' 150th anniversary he's changing the play some, to reflect even more Kansas-related themes. He says famous Kansans from the time will feature prominently in the play, including Gov. Charles Robinson and Sen. James Lane.
"This year, I changed it up and set it in 1861," Averill says, "the first year of Kansas' statehood. Clara's dreams become this wonderful dream of Kansas, this whole kind of coming-of-age vision of this girl who lives in Kansas in 1861."
Bettinger, who also serves as choreographer for the play's many dancers, says one particular aspect she enjoys is the mix of dance and music, which is conducted by Jeff Dearinger. She says the orchestration is excellent, and the producers have added a bit of Kansas twang.
"The dance, it's all blended in with the music of Tchaikovsky, and the music is arranged for mandolin orchestra, which was an artistic choice – trying to kind of bring in the flavor of the music from this area, which is a little Blue Grassy. There are four mandolins in the orchestra and a harp and a deep bass, a chocolate bass, I call it. The music is rich and lively, which excites audiences as well as the dancers. It's a great blend."
Regarding the choreography, Bettinger says dancers of various skill levels are involved with the production, from children to professional adults.
"There are two major factors," she says. "It's ballet, and there are a lot of children. So, there are levels of dancing that reflect their abilities, and they are delightful. They bring a wonderful delight that young movers bring. There's an innocence of movement and it's something that warms and touches the heart. That advances all the way to our advanced dancers."
Averill says the cast is large, and about 80 members are students. He also says the show is family-oriented.
"It's a family piece," he says. "We've got adults doing the show with their kids, or grandparents doing the show with kids. We've got a lot of family working together in this show. Total, it's about 150 people to make the show happen every night. We have almost as many people working on the show as there are in the audience."
Bettinger says the logistics of putting on a show with such a large and varied cast can be difficult, but in the end putting on a show like "The Kansas Nutcracker" is a rewarding experience.
"It's a massive undertaking with a lot of professional hours given towards the cast," she says. "We go for eight weeks of rehearsals, and they're intense. The dance is very athletic, so you've got to be on top of your game. It's a very full, intense process."
Susan Tate, executive director of the Lawrence Arts Center, says "The Kansas Nutcracker" is a great show for the organization to host for several reasons.
"Producing a show like this is part of our mission to support original work by artists" Tate says. "In this case, we are supporting the original work of a composer-arranger,
a writer, a costumer and a set designer. Another level is where we employ professional dancers and actors and musicians. A third level is that it suits our educational mission, where our young dancers take place in a show which includes professional dancers and actors. A fourth way is that it involves the community with our art.
Tate says she's looking forward to the performance, mainly because of the different forms of art on display.
"I love the intersection of professional dancers and young dancers. I love the energy they create. I think that what the mandolin orchestra accomplishes is something that's a celebration of Kansas and celebration of the original 'Nutcracker,' as well."