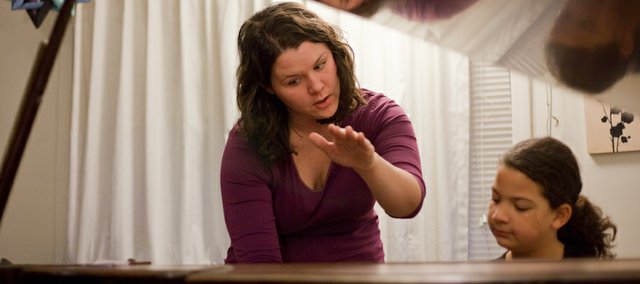 Monday, December 12, 2011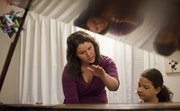 On a crisp October day, Jamie Bone hauled a keyboard downtown. Five students ages 8 to 15 met her in front of Acme, a custom T-shirt shop on Ninth and Massachusetts streets.
Bone placed the keyboard on the street corner. Then each student played a performance piece for the people passing by. The students played their pieces again and again for a different set of ears each time.
Eventually Bone set out a hat, and people plopped dollar bills and loose change inside. Within 45 minutes, they had earned $11. Huge smiles stretched across their faces. It was the first time they had earned money for performing.
Bone, 26, is a piano teacher and tuner who has taught in Lawrence for about a year. She has her own studio with 19 students, most of whom are children. She teaches one adult.
"For a while I thought I could start a decent business by only teaching adult students," Bone says. "I was wrong. You really just can't rely on adult students.
"It's very hard for adults to stick with music lessons. We become very impatient with ourselves. Whenever (adults) don't think they're getting something, they don't ask questions; they get really frustrated and don't show up to the next lesson."
Children are more malleable, she says. Plus, they have adults planning their day, directing their focus, making sure they show up.
Of Bone's 19 students, most are genuinely interested. Only a few have been pressured by parents.
"I really don't have much of a problem with (bad students)," Bone says. "It's bad parents that I tend to have problems with. I'll explain to the parents at the beginning that I want (them) to stay for the lessons. I want them to take notes and pay attention so they can help (students) at home if they need it."
Many parents stop attending.
"Most of the students who don't have very good parents don't end up doing very well at my lessons," Bone says. "It's not just student and teacher; it's got to be student, teacher and parent for it to be a successful lesson."
Bone's father attended her piano lessons when she was a child. When she practiced he paid attention and chimed in.
"He wouldn't sit behind me and observe all my moves," Bone says. "He'd be in the other room reading ... and if I made the same mistake over and over, he'd say, 'Hey Jamie, your teacher said that was a B flat not a B natural.'"
Her father never forced her to practice. Bone lived outside of Tahlequah, Okla., in a home without a TV or computer. Playing piano was her evening entertainment.
She would regularly win local and regional competitions, earning respect and support from her community. In high school, she decided she would study piano professionally. Her master's degree is in piano performance and pedagogy.
Bone, who was a precocious pianist herself, has many students who impress her. Last week one student, Jack, 9, played the song she had given him, "Frosty the Snowman," flawlessly. Then he stood up and told Bone, "By the way, I didn't feel like the key of G major suited 'Frosty the Snowman,' so I transposed it to C major."
"My jaw dropped," Bone says. "I have plenty of students who will be playing for the rest of their lives. ... I like to treat all my students like they're all going to become great pianists."