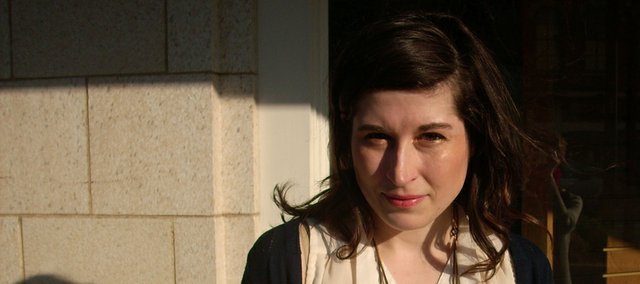 Thursday, December 15, 2011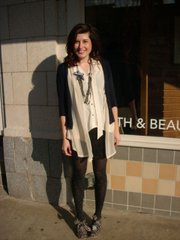 Name: Bernadette Rose Zacharias
Age: 29
Relationship status: Saving myself for Christian Slater
Hometown: Lawrence
Time in Lawrence: All my life
Occupation: Manager at Goldmakers Jewelry
Dream job: Investigative Mythologist
What were you doing when scouted? Working at Goldmakers Jewelry
How would you describe your style? Lately I call it English tea with a slice of cake. Like, I love putting on my plaid wool coat over a floaty pretty outfit for winter.
Tell me a little bit about your outfit: The sweater, the shoes and the crazy orchid necklace all go together with the winter flower colors, purple and pink on navy. They all have fun details up close, like the pink and black Lucite heels, or the print on the sweater — its little perfume bottles! I was feeling kind of like Alice In Wonderland, like playing with pattern and texture with girly hair and makeup. My ring is my most prized possession right now. It's a Tahiti black pearl in pink gold with diamond dewdrops.
Favorite fashion trends: Scarves are trending hard, I think. And I think they represent a bygone elegance so I love that.
Least favorite trends: Deep tanning. These days it is really striking to see someone naturally fair rock that skin and not feel like they have to bronze it.
Fashion influences: My friend Jennifer. Her style is fearless and she never leaves the house in anything mediocre. She is so beautiful, but not afraid to risk that beauty to make a statement.
What would you like to see more of in Lawrence? Jobs so my friends won't move away so often!
What would you like to see less of in Lawrence? Empty storefronts.
Do you have any piercings or tattoos? None, except my ears.
People say I look like… My friend Nichole Valliere, which is flattering because she is really cute.
Tell us a secret: For excellent posture that isn't peacocky or overcorrected, pretend there is a fishbowl on top of your head. My mom told me that.