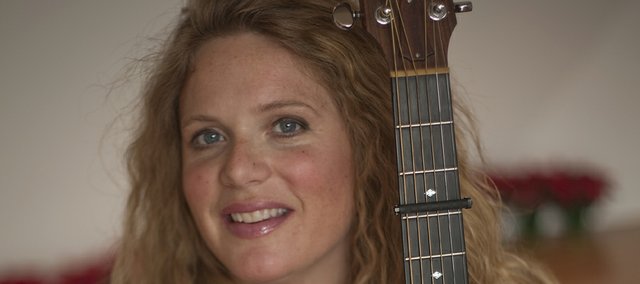 Friday, December 16, 2011
Ashley Davis Release Party and Concert
Where: The Lied Center of Kansas, 1600 Stewart Drive
When: 7:30 p.m., Dec. 21
Tickets: $20; contact the Lied Center box office at 864-2787 or go to www.lied.ku.edu
Audio clip
"Fare Thee Well"
Lawrence-bred Celtic songstress Ashley Davis is out with a new album celebrating the chill in the air.
Davis will debut "Songs of the Celtic Winter" at a release party and concert Wednesday night at the Lied Center by playing all 11 tracks on the album plus a special song commissioned by Family Promise of Lawrence.
The singer-songwriter-producer sat down with staff writer Sarah Henning to talk about her third album (which was partially funded by a Kickstarter.com campaign), winter as a theme and how her creativity has expanded since her move back to Lawrence two years ago.
Sarah Henning: You say you feel the sound on this record will be your "signature" sound. How do you describe it?
Ashley Davis: This particular album, since it's a winter album, we didn't put any high-end (sounds) into this album whatsoever. So, it's all mids and low-range instrumentation and frequencies. So, it really does have that almost Russian-choir, lulling, dark sound throughout it. That doesn't mean depressing, but paints a picture of a landscape that isn't springy and flowers popping up and so forth. So, we try and paint these landscapes with the music and the words, certainly, too. And so, I think on probably seven of the pieces I co-wrote with this producer in San Francisco and what he would do is send me a chord progression and say "What do you think of this?" And then I would write a melody through that and the words then. Then we would put those together and add the instrumentation and so forth.
And then the other major, major influence that I sort of had an epiphany (about) during the process of doing this album is the harp. I realized that the harp is a really integral part of what my sound is. And working with Cormac DeBarra, who is also Moya Brennan's harper, has just helped open up my absolute love for harp music, just in general, traditional harp tunes and how beautiful they are. Just the modality of them and Cormac has been a great influence on me in that way. Where we'd set out to have Cormac on four tracks of the album, he'll end up being on nine of the 11. Because everything sounds good with harp on it. And he plays the harp in a different way, so that it is accessible — my writing and his playing are very complementary toward each other. That's the best way to say that.
I didn't have any "rules" with this album. I was able to use electronic instruments, instruments from any genre that I wanted to, I had the entire palette and that was what I'm so proud of. And even language-wise, even lyric-wise, that I wasn't having to write in a traditional Irish language fashion. Some of the songs, I would say, are very Victorian literature-angled and some are medieval poetry that I pulled from England. There's a real mix of that, but they all sort of have a common ground because of the music that grounds them.
S.H.: You mixed original songs with old carols, songs and poetry, yet they flow seamlessly. How do you go about creating a feel for your albums as a whole?
A.D.: So, I feel like, between authors who are long gone, anonymous pieces and my own writing, I think that's what keeps it fairly seamless. Because I choose stuff that complements one another, or I write it to complement one another. I want people to be able to listen to the album — and this is the way I feel about all my albums — from start to finish without jolting up and going, "Whoa!" like some crazy reel hits you from the side of the head and you're jumping around. That's really important to me. That was another big defining moment about this album, which was I didn't need to have albums that were upbeat. That were jaunty. That were pub music. That people would spin around the dance floor (to). I can write that way, but that's, at least at this point in my life, not the way I want to write. And I was really comfortable with that. I wasn't scared as I was with the first album — my first release coming out, people saying, "Gosh, but it's all really slow music." This, I didn't mind at all. And a lot of it is because it's winter music and you don't mind a quiet approach to music for the winter. But "Winter Jig" on there is as crazy as it gets.
S.H.: Why did you want to do a winter album?
A.D.: I had always wanted to do an album of winter music. It was brought on by living in New York. I was heavily surrounded by the Jewish community in New York. And it had always struck me that from December on, every store that they walked into, it was Christmas music playing. There were never secular albums that were put out that everybody, no matter you background was, could listen to and there would be nothing that would verbally jar you into one way or another. And so I wanted to create something that was very Old World. That had nothing to do with religion — that purely celebrated the season of winter.
S.H.: You started working on this album two years ago, how did you maintain that "winter" vibe over the span of that time?
A.D.: All of my albums are approached from an academic standpoint. That's one of the main things. So, when you're looking at something academically, you have a task and a purpose. The first thing I do when I'm researching an album, is I'm going in and I'm looking specifically for Celtic songs from any of the Celtic regions that have to do with winter. Again, I was coming up against a big challenge here, because the (Celtic) regions are primarily Christian. And so I was running into almost everything being about the birth of Jesus. So, often what I would do is cut up songs. They're two songs that I've put together. I've taken these two verses that were secular and these two verses that were secular and put them together and rewritten them to work.
So, it was easy for me to do because it was an academic exercise. And the majority of it I wrote in Ireland this summer and was collecting in Ireland this summer when it was beautiful there and I was wearing sandals. I just have a vivid imagination and it's easy for me to transport myself, too. And when you're looking at all this beautiful poetry and literature, and song lyrics, it's easy to be carried away, for me, to these wintry times and places and imagining how it would feel. Because I'm not talking about suffering in any other way that heartache in the album, it's a pretty ... obviously, that's a metaphor that's used throughout the album — that winter is like suffering for somebody's love, also.
S.H.: If you started culling information this summer, when did you start recording?
A.D.: I started recording in September. We turned it around fast. But again, that had to do with my co-producer in San Francisco knowing me quite well. He's really multi-instrumental, and so we could literally do a track from beginning to end — vocals to everything with percussion — in about three and a half hours. I was there four days and we came out with eight tracks done of 11.
S.H.: How has your move to Lawrence affected the feel of this album?
A.D.: I think the reason I created exactly the album that I set out to create was because I'm so comfortable here as Ashley. I have been more creative and more prolific in the last two years in Lawrence than I was my entire decade in New York City. Because I'm so comfortable and relaxed here that it's an amazing creative space for me. And in New York, you're just trying to get by, day by day. Sleep deprived ... everything. This is an oasis for me.
S.H.: What can fans expect next from you?
A.D.: It's a toss up between three things. I've said that I wanted to do an album for the four seasons, so I might move on to spring and do that next. I might do — I've had a lot of requests for a Celtic lullaby album, and when I was researching at the New York Public Library, I found so many cool resources for that of really old Celtic lullaby pieces from amazingly far back, so that's material I'm really looking forward to working on. Or I might just write a straight-up Ashley Davis album that doesn't have any particular theme, that's just a performance type album that could play festivals and things like that.