Monday, December 19, 2011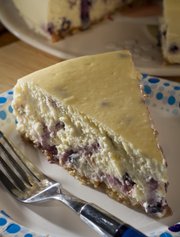 We're going to send this year out with a bang by making blueberry cheesecake. Mom used to serve us windowpane-thin slices of cheesecake while keeping the rest for herself, but you can decide for yourself just how generous to be.
Don't worry. This will be painless.
Preheat your oven to 325 degrees. While the oven heats up, wrap the outside and bottom of a 9-inch springform pan with foil and set it in a baking dish that's about 3 inches deep. Aim for at least an inch of clearance on all sides. Line the bottom of the springform with a parchment circle.
To prepare the crust, crunch up a bunch of Nilla Wafer cookies. You'll need 3/4 cup of crumbs, to which you'll add 1/4 cup of gingersnap crumbs and 1/4 cup of sugar. Stir them all together with 4 tablespoons of melted butter, then gently press this mixture into your pan. Don't bother with the usual routine of patting it up the sides. This always struck me as wasting valuable cheesecake real estate. Flat on the bottom will do.
Now for the big time. Try to have your ingredients at room temperature. Toss four 8-ounce blocks of cream cheese into your mixer and whirl them around with a cup of sugar until they're nice and creamy. Add a cup of sour cream, 4 teaspoons of vanilla extract and 1 teaspoon of almond extract. Blend these on medium speed for about 30 seconds, scraping the bowl constantly. Now add five eggs and blend just until smooth and combined. Fold in half a cup of dried blueberries and you're ready to bake.
Pour the cheese mixture onto your crust and smooth it with a rubber spatula. Try to avoid licking the spatula because raw eggs are not considered part of a long and healthy life nowadays.
Put the pans into the oven and add water to the outer dish; to within an inch of the top will be fine. Set the timer for 45 to 50 minutes and walk away. Resist the urge to check the cheesecake every 10 minutes; the timer will beep soon enough and you can't eat burning-hot cheesecake anyway.
Near the end, peek in the window and give the stove a wiggle. Your cheesecake should do a little dance, but not a full-on waterbed shimmy. It should NOT be brown. If you've hit the magic nonbrown dancing mark, turn off the stove. Set the timer for one hour and leave your cheesecake to its own devices in the closed oven. After the hour's up, you can remove the pan from the water bath and let it cool on a rack before chilling your cake in the fridge overnight.
See? Painless. You can change up this recipe by using dried cherries or apricots instead of blueberries, or by altering the proportions of the cookie crumbs. However you make it, your lactose-loving friends will thank you.
Enjoy!
— Audrey Lintner can be reached at bitesighs@hotmail.com.