Wednesday, December 21, 2011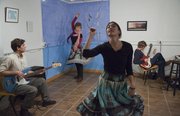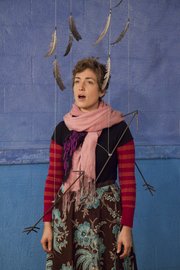 Recurring event
Lawrence Percolator, In the alley behind the Lawrence Arts Center, Lawrence
All ages / Free
On the longest night of the year, the Winter Solstice, Lawrence artists will gather together to combine multiple forms of art – including painting, poetry, music, photography and other forms of expression – to celebrate the distant coming of spring and to enjoy each other's company and creative spirit.
Curated by poet Peter Wright, "Stillness and the Word," an art exhibition at the Percolator, located in the alley behind the Lawrence Arts Center near Ninth and N.H. streets, will be open at 6 p.m. today, with readings beginning at 7 p.m. The visual art will also be available to be viewed on upcoming weekends from noon to 6 p.m., Saturdays and Sundays.
"Stillness is something I've been writing about for a long time, maybe 10 to 15 years," Wright says. "I realized when I first became a board member (for the Percolator) that everybody seemed really busy, and I wanted to suggest stillness as a creative impetus or medium. I really like the idea. I guess I believe in the idea that right before something is created, there's a moment of stillness and of peace. Almost like the moment between the ebb and flow of the tide."
Wright says that in addition to exploring the theme of stillness, he wanted to put on a show that blended various art forms into one "concert of collaborations," to help artists explore types of expression they, perhaps, weren't as familiar with.
"It's really kind of a special thing that artists are actually playing off of each other," he says. "If you come to the opening, you'll get to see not just the poem on the wall, but you'll get to hear the artist read while both artists are present. This show is important for the same reason the Percolator is important — because we really do want to foster collaboration between artists and community."
Fellow board member and musician Rachael Perry says this show, with its combination of art forms, has brought about a new artistic appreciation in her. She says she's surprised about the exhibition's effect on her own creative spirit. Perry says working with Wright has been an enjoyable experience.
"For me, it's piqued my interest in poetry," she says, "and that's not something I would have expected to be doing this winter. It seems like it's been really great to work with Peter because his poetry is so beautiful and he has such a long history of doing it. It seems to me that he has a really romantic sense of what poetry is, and having such a love for it that I've been really inspired."
Perry says one of the most important elements of this show is bringing the community together for a common cause of fellowship.
"I think this is a nice time for everyone to gather together. I love the idea of stillness, and over the past year the Percolator has had a lot of rituals happen – a lot of celebrations to bring people together. It's so special to have someone speaking and a fire and ways to connect. I think this is a great example of that."
Wright agrees, saying that even on this cold, black night in December, people can come together and look forward to the warm weather and sunshine of distant springtime.
"It's definitely family friendly," he says. "The whole idea is to celebrated that time in the year when it's the darkest, longest night of the year and from here on out the days will grow longer. The beginnings of growing, of blooming – I think that topic speaks to everybody this time of year.
Painter Kyle McKenzie, whose piece is a gouache painting of a frozen bison wallow from Prairie State Park in Liberal, Mo., says working with such a disparate group of artists for "Stillness and the Word" has been enjoyable, if slightly nerve-wracking.
"It's kind of interesting, the work towards the theme," McKenzie says. "Because you feel like, even though you're alone in your studio working on it, you feel like not only are you interacting with the person you're collaborating with, but I sort of was constantly thinking of the piece as though it was part of a bigger whole, even though I didn't know what the whole would look like.
"The fact that I know it's going to be hanging next to other people's interpretations of stillness makes me want to be as clear as I can be with my aesthetic choices. It kind of personally raises the bar a little bit, it make me feel a little accountable to the other people in the show."
McKenzie says the project is indicative of what he's seen of the Lawrence arts scene and that this mixing of genres is good for all artists. He says he's happy to be involved with this Percolator exhibition.
"It's a really exciting space, I'd never been to the Percolator, but it's really great to have a place that seems to be driven by like-minded, energetic people. I think it's important to try to get a broad array of things together whenever you can. It looks like there's going to be a lot of interpretations on the theme and that it should be pretty diverse."