Monday, December 26, 2011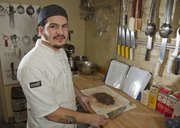 When Juan Carlos Tovar-Ballagh, 23, was a young boy, he would experiment in the kitchen — often to the dismay of his own taste buds: he would mix flour and water in a bowl then zap it in the microwave to create bread.
"As a kid, I was a horrible cook," says Tovar-Ballagh, a pastry chef at Pachamamas, 800 N.H., who now bakes quality breads professionally.
Tovar-Ballagh has been a cook at Pachamamas since early 2009. He started as a bar chef and has hovered from station to station — from salad to pizza to grill to sauté to pantry — until he finally landed in the dessert category, where he specializes in pastries and breads.
Tovar-Ballagh has only worked two sorts of jobs: food production and house maintenance. Before he began dicing and paring and blending and baking at Pachamamas, he was heaving and stooping and clutching a brush while painting houses with his father.
The difference in professions, as far as Tovar-Ballagh is concerned, was stark. So when he was hired at Pachamamas, he shed the other job like one would a winter coat on a hot summer day.
Now instead of slinging paint, he slings dough. As pastry chef, Tovar-Ballagh writes the dessert menu for the restaurant. For inspiration, he looks to restaurants he respects for ideas. Among them are Bluestem in Kansas City, Mo., and Niche in St. Louis.
"I like to look locally as well as abroad," he says.
Tovar-Ballagh also peruses food magazines — "Art Culinaire," "Food and Wine," "Saveur" — reads a heap of cook books and watches cooking shows like "Top Chef" and "Anthony Bourdain: No Reservations" when he has the time. Food is often on the forefront of his thoughts and conversations, and he likes to talk with foodies, friends and chefs alike about the craft of cooking.
When developing a dessert, Tovar-Ballagh considers many food characteristics: flavor, texture, temperature and size are a few of them.
"I like to pick a main component and branch off of complementary flavors and textures," he says. "Then after it tastes right, you gotta make it look good, so you have to think shapes. Classic shapes or newer crazier shapes?"
Tovar-Ballagh says appearance is almost as important as taste when creating a well-crafted dessert. He considers the plateware, the color and the shape of each dish he prepares. And when crafting new dessert items, he tries to offer exciting choices that aren't so different they scare consumers away. To do that, he takes a classic dessert and adds a few twists to make it his own.
One of his favorite concoctions was a chocolate bread pudding dome with gianduja (a sweet chocolate hazlenut paste) center, a smoked strawberry coulis and amaretto ice cream.
But there are some classic desserts that don't need tweaks that consumers consistently order, says Tovar-Ballagh. Apple tart and molten brown sugar cake are among them.
"Apple tart has been on the menu, I believe, since the restaurant's inception," he says.
Tovar-Ballagh pictures himself hunched over a kitchen counter, mixing bowl in tow, for a long time.
"Working in a kitchen is always an even mix of exciting and stressful," he says. "Working in an office just sounds boring. … I'll probably work in a kitchen because it sure … beats painting."