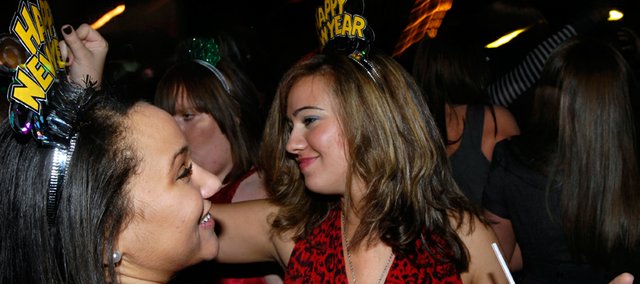 Wednesday, December 28, 2011
As the days get colder and sunlight becomes scarce, some Lawrence residents may be dreaming of tropical beaches, or at least a break from the winter winds and weather.
While, sadly, that's not in the immediate forecast, there is at least a brief respite for many in the upcoming New Year's celebration. For at least one night, many local bars and restaurants across the city are opening their doors for special parties, with food and drink specials and live music for anyone wanting to get out of the cold.
No tigers allowed
At the Bottleneck, 737 N.H., Split Lip Rayfield will be performing with opening acts Dumptruck Buttlerlips and Ashes to Mortality. Tickets are $17 to $20 and may be purchased online at thebottlenecklive.com, or at the venue. Free State Brewery sponsors the show, and all Free State beer is on special for $3. There will be a champagne toast at midnight.
Wayne Gottstine, who plays mandolin, guitar and sings for the band, says he's looking forward to playing at the venue on New Year's Eve, even though it won't be quite as interesting as he had, perhaps facetiously, originally planned.
"I always like spending my New Year's Eves in Lawrence. I always like playing the Bottleneck and having nice Split Lip parties. It's always fun. I was going to bring a couple of Bengal Tigers, but Brett Mosiman (club owner) wasn't into that, so I'm not going to bring the tigers. I guess we'll just play our set, just a regular, get-down Split Lip show."
Gottstine says the group is working on a new album they hope to debut next year and they will play some of their new songs at the New Year's Eve show. He says he's also looking forward to playing with the other bands on the billing.
"Dumptruck Butterlips, I think they're a really good band. They're like most-improved band. I saw them when they first started out and I saw them about a month ago. They sound really good. Especially their soul stuff, they've got really nice harmonies and they sound great."
No cover, no problem
For those preferring a regular bar atmosphere to help ring in the New Year, the Red Lyon Tavern, 944 Mass., will be letting people in out of the cold with no cover charge. They'll be handing out noisemakers and party supplies, will be selling bottles of champagne for around $12 and will have a balloon drop at midnight.
Bar manager Chris Neverve says the Lyon draws crowds much larger than usual on New Year's Eve, so revelers should arriver early, as the bar fills up quickly. He says the annoying alternative is being stuck in a line outside the bar at midnight.
"We're pretty much full. Usually people should get here by 10 o'clock at the latest if they actually want to be here at midnight for the ball drop, or whatever. People come in at 10, 11 – whatever – and they stay 'til midnight. People that try and show up at 11:30 might miss the whole countdown and everything."
Neverve says there's far more energy on New Year's than on a standard night at the Lyon, with a broader clientele than usual.
"A lot of people that don't necessarily go out every night are out, so we get a huge crowd, it's definitely a rookie's night out. It's fun, we do a good job of passing out supplies here. Usually everyone's in a good mood, they're out there to have a good time. It's one of those festive jolly nights."
Neverve says it's the uniqueness of the night that seems to appeal to many of the partygoers on New Years Eve.
"Not too many people always drink champagne," he says, "but this is one of those nights where people think, 'Alright, gotta celebrate by popping the cork.' Maybe not so much even drinking it, it's the actual busting the bottle open and passing it out. It's all about cracking it open and hopefully not shooting someone in the eye."
Cave dwellers
At the Cave, inside the Oread Hotel, 1200 Oread Avenue, DJ Uso will be performing what club manager Shawn Mahoney calls a "nice eclectic mix of music for all ages and all music genres." The venue will be open from 8 p.m. to 2 a.m. and will feature party favors, a midnight champagne toast, valet parking, and a free coat check. Tickets are $45 at the door and include 15 drink tickets. Advanced tickets may be purchased for $40 via the venue's Facebook page for from www.oreadcave.com.
Mahoney says the Cave, which can hold up to 450 people, not including rooms for private parties, will be decorated festively for the holiday. He says he hopes to get a wide range of ages for the event's patrons, not only the college-aged.
"Actually, it's an all-ages crowd. I'm shooting for the late 20s, early 30s demographic," he says. "I'm sure, being in Lawrence, that we'll also have the 21 to 27-year-old demographic, so hopefully it's a nice mix this year. "
In addition to the main dance floor, Mahoney stresses there are still private party rooms available at the Cave, with both private bartenders and access to the main floor among other amenities. He says due to the Cave's size, it offers opportunities that no other bar in Lawrence can match.
"The one thing about the Cave that people don't understand is that we're a whole different dynamic than the rest of the bars and clubs in Lawrence. It's one of the few that has this unbelievable cavernous feel, and the size and capacity to fit all sizes of parties. It's a different animal than the rest of Lawrence, and the sound system is unreal. So, if you want to ring in 2012 the right way, the Cave definitely offers it to you. "
More like this story on Lawrence.com