Thursday, December 29, 2011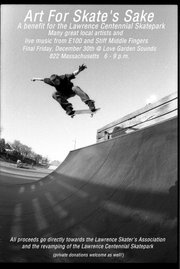 Art For Skate's Sake, Love Garden Sounds
Local artists will join forces to benefit the Centennial Skate Park with the opening of Art For Skate's Sake this Friday at Love Garden Sounds, 822 Mass.
The exhibition will feature works donated by several area artists, including Jason Barr, Erok Johansson and Leo Hayden. Artist and Lawrence Skaters Association member Adam Dorssom is organizing the exhibition.
Artwork sales will go toward giving Centennial Skate Park a bit of a facelift. Dorssom says the park is outdated and isn't challenging the skaters as much as it did when it was built. He plans to use the proceeds in conjunction with funds from the city to resurface and add new features to the park.
"We're hoping to make the park more interesting for the kids," Dorssom says.
The opening event will feature music from local acts E100 and Stiff Middle Fingers.
Te Parti, The Bourgeois Pig
The lewd and lovely ladies of the Foxy By Proxy burlesque troupe will adorn the walls of The Bourgeois Pig, 6 E. Ninth St., on Friday for the opening of the Te Parti photo exhibition from local shot-snappers Atomic Photography.
Te Parti will feature 17 pieces, including six large canvasses and 11 smaller prints. Racheal Major — one half of Atomic Photography along with Foxy By Proxy performer Jen Young — says she and Young took inspiration for the photo shoot from Lewis Carroll books Alice's Adventures in Wonderland and Through the Looking-Glass.
For the shoot, the photographers took their furniture and set up a scene at Wells Overlook Park. Inclement weather made for a challenging shoot but resulted in the set of moody, ethereal photographs that comprise Te Parti.
"It was a weird, creepy tea party," Major says.