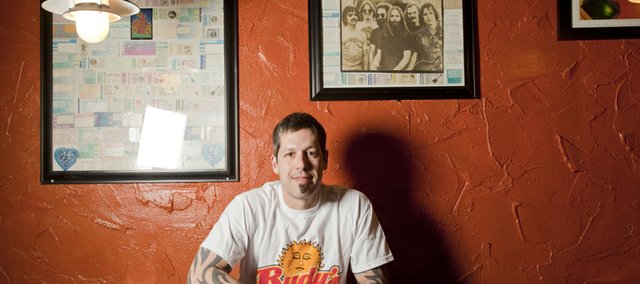 For Massachusetts Street seasoned shoppers, stores that have been around for years might seem uninteresting. But look inside them, and each place has a unique defining feature, ranging from thousands of signatures of athletes to storefronts that haven't changed in two decades.
Ernst & Son Hardware, 826 Mass.
The hardware store is filled to the brim with tools, cooking supplies and paint, but behind the counter near the back of the store is a 119-year-old gem. It's the cash register.
"It's getting a little tired, but it still works," says Rod Ernst, store owner.
Ernst says his grandfather bought the register, which goes only as high as $99.99, in 1908, three years after the store opened. It was used, and the date on the machine says 1892.
Ernst has kept the original shipping crate and still uses the register.
Jock's Nitch Sporting Goods, 837 Mass.
"I know Joe Dooley. He is my dad, and I love him" is one of the more unique Kansas University-related signatures that graces the wall of Jock's Nitch. Dooley's son Max penned it a few years ago, adding it to signatures of the likes of Paul Pierce, Raef LaFrentz, Scot Pollard, Mario Chalmers and countless other KU athletes.
Manager Ryan Owens says the tradition of signing the wall started in 1993 and since has grown to include athletes from different sports, ranging from track and field to club sports such as rugby.
"There's a ton of different sports. That's what makes it cool," Owens says.
Sports that are no longer played at KU are memorialized as well, such as men's tennis and swimming. Sometimes, athletes who played before 1993 come back to sign the wall.
"What's kind of cool is when people come back and say, 'Yeah, I've signed it,' and they look for it," Owens says.
Rudy's Pizzeria, 704 Mass.
The way owner Chad Glazer met his wife is memorialized on the wall of Rudy's. Framed near the back of the pizzeria are Grateful Dead concert tickets, and Glazer says there are as many stubs as they could find from the almost 70 shows they've attended.
"That's pretty much how we met and became best friends," he says.
Glazer says he traveled all over the country in the 1980s, from Maine to Texas and New York to California, to see the band.
Glazer says he and his wife had to stop going to shows when they opened Rudy's, but the tickets are still special to him.
"A lot of people like to sit in that booth and ask questions," he says.
But not everyone recognizes the band.
"There doesn't seem to be as many hippies in town as there used to be," he says.
Penny Annie's Sweet Shoppe, 845 Mass.
Marilyn Monroe graced the walls of Penny Annie's soon after the store opened 23 years ago. She is just part of the feel that gives the eatery a retro feel.
Owner Monica Istas says all of the artwork on the walls, including Marilyn, was painted by college students.
"They'd just come in and paint," she says.
It's the same story for the paintings of jellybeans, bubble gum and other candies along the back hallway.
"It's kind of like Candy Land when you walk back there," Istas says.
Calamity Janes', 927 Mass.
People who regularly walk past this clothing store should recognize the crocheted white dress that a mannequin wears in the window. That's because it's been in that same window for 20 years, along with another silver dress, according to shop owner Teresa Rasing.
"Everybody walks by the window and says, 'That crazy woman never changes her window,'" says Rasing, who often goes by Tara.
The two dresses are just a few of many unique designs in the store, which holds clothes Rasing designs and creates from other clothes. Rasing has a background in painting and sculpting and says she draws from all cultures for her designs.
"It appeals to women who want something different," she says. "I don't even try to be normal."
— Reporter Brenna Hawley can be reached at 832-7217.