Originally published February 10, 2011 at 2:22 p.m., updated February 10, 2011 at 2:44 p.m.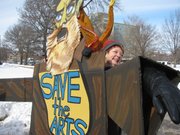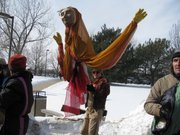 Topeka — Waving puppets and signs, about 200 people on Thursday rallied outside the Capitol to protest a proposal by Gov. Sam Brownback to eliminate the Kansas Arts Commission.
"I believe the arts are an integral part of everyone's heritage," said Laura Ramberg, of Lawrence, who held a large puppet of the "Kansas Muse."
Brownback has issued an executive order to abolish the Arts Commission, saying it will save about $600,000 in the next fiscal year. The state faces an estimated $492 million revenue shortfall, and Brownback says he wants to "protect the core functions of government."
Supporters of the Arts Commission said the cut will also mean the loss of an additional $1.2 million in federal funding, and hurt dozens of local communities and projects that receive funding.
Brownback has said the private sector will step up to the plate. He has appointed a non-profit arts foundation to raise funds. "There will be more money for arts, rather than less," he said.
But those at the rally didn't buy that.
Shannon Riley of the Topeka Civic Theater said, "If only the private sector supports the arts, only the private sector will have access to the arts."
And Henry Schwaller, chairman of the Kansas Arts Commission, referred to relying solely on private support, saying, "We know how difficult and unsuccessful that will be."
State Sen. Roger Reitz, R-Manhattan, urged ralliers to contact their legislators. Brownback's plan can be stopped by either the House or Senate.
"We are better than this, to let this go away," said Reitz. State Sen. Marci Francisco, D-Lawrence, also attended the rally.