Thursday, February 10, 2011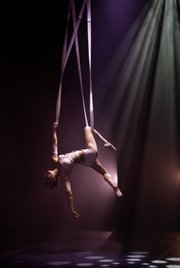 There is nothing simple about Kansas City's Quixotic Fusion.
If you ask members of the music and dance ensemble what it is they do on stage, the explanation becomes more of an extensive list of artistic genres than any real description. If you ask them what a typical show includes, they hem and haw until eventually admitting they themselves don't necessarily know, because each of their shows is catered to the venue they will be performing at.
"It's tricky, we're quite a few things in one," says founding member, drummer Anthony Magliano. "We're a band, a live music ensemble between five and eight performers. We usually have four to 10 dancers and a whole team of visual effects artists. It's kind of a hybrid –– what we're really trying to do is create a theatric production and a live music performance all at once. We basically go somewhere, think of what we can do, and then create a specific, custom installation performance."
On Friday, the group will perform at Liberty Hall, 644 Mass, a show Magliano is very much looking forward to.
"What we're going to be doing is definitely the get-up-and-shake-your-butt type of thing. It'll be more of your high-energy stuff. We're super stoked to get up to Lawrence and really reach out to the scene there. I'm a huge fan of a lot of stuff that's come out of that city. It just makes sense for us to get out and get the college scene into what we're doing."
Magliano, who also works as a sound designer and artistic director for the group, says the goal in creating Quixotic Fusion was to intertwine multiple disciplines of art, creating something greater than the sum of its parts.
"My background is playing rock shows," he says. "I just wanted to create something that had a bigger production value and integrated more types of disciplines and artists. It's cool to see a projection designer and a 3D-effects artist working with a dancer and a cello player. It's all to make this big picture."
Mica Thomas, co-artistic director for Quixotic Fusion, says the group's goal is to go beyond what an audience would expect to see.
"We try to create an experience for the audience; so many of our shows have things that come out into the audience. Instead of just seeing a presentation on stage, people end up getting enveloped in it. We end up having more of a relationship with the audience."
Thomas describes the group as a "full sensory experience," something many people with different artistic interests can appreciate.
"A show's got really energizing music, it's got lots of visual effects. There are so many elements happening at once: aerial, dance, lighting, music, costumes, make up and hair –– its got a bit of everything. The cool thing about the group is we can focus on different areas from show to show. That way we can really reach out to a wide demographic of people.
"There's a lot of people who really like the performing arts side of the group," Thomas says, "and the younger demographic likes the edgy music and fashion. We try to stay very current and stay up on technology. Because the group has so many branches, we can be very dynamic in the types of performances we do."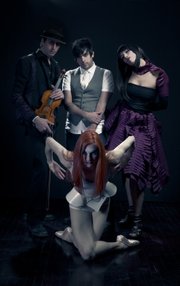 Magliano agrees, saying a wide variety of people appreciate Quixotic Fusion's grandiose, eccentric performances.
"The best thing I've heard about who comes to our shows, one lady was like, 'You guys reach out to the blue hairs and the purple hairs.' It's a funny comment, because we'll have those older, arts-loving people, and we'll have the 18-year-old punk-rock girl with the purple hair. It's definitely something very diverse. An 18-year-old girl will feel cool bringing her parents to this show."
The next phase for Quixotic Fusion, Magliano says, will be stretching out from its home base in Kansas City and playing to new audiences around the country. The group has been so busy with just their home city, however, that this has proved difficult at times.
"Logistically, we've been trying to get out and do more, but with our setup everything's a bit more complicated. We require a bit more. We've done shows in smaller venues, but to do the shows the way we want, we need the space. We have people flying around. We'd rather perform less but pull it off the way we visualize it."
Thomas says touring with this band will be a multi-faceted affair, with nearly limitless possibilities for show types and performance locations. He says the ensemble's future will include incorporating more technology into the show.
"The idea is to go on tour more –– do more stuff all over the place," he says. "We want to hit festivals, performing arts centers, hopefully get a residency somewhere so we can do things for longer periods of time. When you load in a show really quick for a place, you have a really short run, but with a residence show you can kind of dig into the space. Artistically, we've been playing with dancers' moving, triggering lighting and projections. As we build more as a group, I think we can build with our technology and move forward."