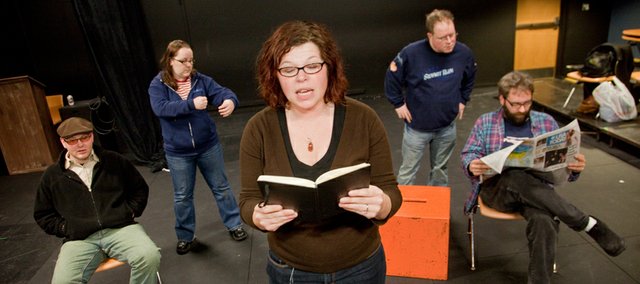 Wednesday, February 16, 2011
Being funny is hard work. Between writing jokes, producing skits and developing perfect comedic timing, there's a lot that goes in to making an audience laugh.
For husband and wife Matt Gaus and Emily Lowrance-Floyd, co-producers of the upcoming show "Loaded For Bear," the goal is always hilarity, and they take their work very seriously. Well, maybe not completely seriously.
"Being funny is the most difficult part," Lowrance-Floyd says. "Some things just seem to work in my head and I get really excited and write them down. I run over to Matt and say, 'Oh, look, it's funny!' and then he yells at me and tells me to never come back until I'm funny." She pauses, "Okay, no, that's not true."
"Repetition is the hard part," Gaus says. "Running the script you had from two months ago. You rehearse and rehearse and no one's laughing anymore. You wonder if it's still funny at all. Some people are a bit more improvy, we're a bit more script-based. We get a lot of material and we edit and edit. It's not a pretty process."
The couple's upcoming production, "Loaded For Bear," opens at 8 p.m. Friday in the Lawrence Arts Center's black box theater. Tickets are $6 at the door. The show is 18-and-over and there will be drink specials for patrons over 21 years of age beginning a half hour before the show. It is being produced through local Card Table Theatre.
Gaus and Lowrance-Floyd also produce the popular local comedy variety show, "The Victor Continental Show." For those familiar with how a "Victor Continental" show works, Gaus says this will be a similar experience, perfect for "anyone who needs a sketch comedy fix." Gaus and Lowrance-Floyd also say the show will be just as funny for those who have never seen any of the group's other performances.
"It's a sketch comedy show, so we've got about 15 short bits and six videos," Gaus says. "They're not terribly interconnected, there's a variety of stuff. We have a general list of topics: time travel, cooties, farmers' markets, the history of western civilization, hostage situations."
"There's a mix of live action and little bits of comedy sketches," Lowrance-Floyd says. "Ecological destruction, local humor, hostage sketches — it's a good way to kick off your evening, I promise we'll be done at 10. Wink, wink. Personally, I haven't seen the show yet, but I hear good things. Despite the title, there are surprisingly few bears in the show."
Gaus and Lowrence-Floyd say the idea for the show came about after writing jokes for the latest "Victor Continental Show." The writers began producing a large quantity of unused jokes and skits — funny material, but not quite right for their flagship event. The result has been a "hodge-podge of funny," according to Gaus.
"We know when we're writing for a 'Victor' audience that it's not just a show," he says. "It's not just a variety show, it's an event. It's loud. It's raucous. Certain sketches that kind of have a through line, where you have to have a lot of words, don't play as well. With this, we were consciously trying for smaller stuff that would work in a smaller space."
"Not all comedy is created equal," Lowrance-Floyd says. "Some types of comedy play in different spaces. There will be boob jokes, occasionally, though fewer for this show. It will be more psychological, like Stockholm Syndrome jokes, maybe. We actually tried to clean this up, because with 'Victor,' cursing is kinda crutch. The most topical sketch we have is a gnome-sex sketch. The premise is, there's a gnome movie out — like 'Gnomeo and Juliet.' We predict gnomes to be huge. Gnomes are the future."
Kari Jackson, an actor in the show and a producer for "Loaded For Bear's" financial backer, Card Table Theatre, says the performance is indicative of the type of show her organization wants to produce for audiences in Lawrence.
"We're extremely excited to be a part of this show," she says. "It's great that actors, directors and writers have an outlet. We're so happy to be able to fund that kind of creative activity in Lawrence."
Jackson says Card Table Theatre is unveiling a wide variety of entertainment in 2011.
"We're going to have a full season of stuff coming out. We're going to focus on producing new works, original works and maybe some known plays. Card Table is happy to look at anything. We're a production company. We're happy to produce or look at anything people write."
Gaus says having the theater group involved has been very important to the show's success.
"We're really fortunate that we pitched them an idea and we didn't really have to sell it. They gave us a check to rent the space here at the Arts Center, and I was like, 'They gave us a check? That's fantastic!' We're expecting the Card Table people to make up half of our audience," he says with a laugh.