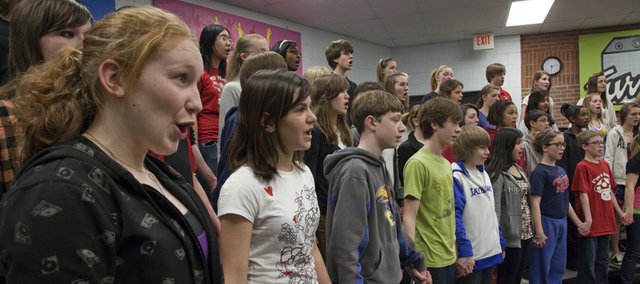 Thursday, February 24, 2011
It started as an anniversary anthem.
Now, it might as well be battle cry.
Going into its 20th anniversary season this year, the Lawrence Children's Choir picked "There Has to Be a Song" to be its signature song for the year. At the time, it seemed like a nice nod to the music group's long history of churning out music lovers and career musicians, but with the state's proposed July 1 privatization of the Kansas Arts Commission, its meaning has deepened.
Gov. Sam Brownback's withdrawal of funds to the state's main arts council, which supplied Lawrence-area artists and organizations with $121,957 in grants this fiscal year, means a possible 15 percent reduction in the choir's budget. That might not sound too steep, but it's enough that co-founder and artistic director Janeal Krehbiel is worried about the future of the award-winning and internationally recognized choir.
"It's very, very frightening because ... we're a nonprofit and we try our best to keep tuition at a place that is not totally unreasonable," Krehbiel says. "We will lose a big part of our funding from the state, which has allowed so many kids to have a singing experience. And if, indeed that happens, very sadly, we will likely have to fold."
She says the choir is already on a bare-bones budget — employees are already paid low salaries without benefits — and the money missing from the Kansas Arts Commission would make the price unbearable for the kids in the group.
"The kind of tuition we'd have to ask for to cover what the Kansas Arts Commission gets us to stay alive," she says, "that would just increase tuition to a point where I don't know if we could get families to do it."
The group's executive director, Jane Roesner Graves says that the numbers work out this way: This year, grants from the Kansas Arts Commission and matching funding amounted to about $15,000. Last year, $13,000 went to scholarships for students who could not pay all or some of their tuition. Without that money, the price goes up for everyone. Even children's choirs have to obey basic economics, Graves says.
"It's supply and demand. Any business has to figure out what their price point is. And, there comes a point when, for anything you purchase, there comes a point where it becomes too expensive for a family to afford," Graves says. "We don't want to be an exclusive organization only for people who can afford the arts. ... And what the governor is doing is making it so that it becomes exclusive again."
And that's the last thing anyone connected with the group wants to happen.
At its anniversary show, 4 p.m. March 5 at Lawrence High, the choir will have a special performance with several of the alumni the group has created over the years. Many of those former choir members went into careers in music — most notably country musician Sarah Buxton — because of their experience with the choir.
One of those musician alumni is Gabe Lewis-O'Connor, who sang with the well-respected men's group Chanticleer before returning to Kansas and working as the choir's artist in residence — a position made possible by yet another grant from the Kansas Arts Commission. He says he owes his career to the confidence the choir built in him.
"(If) these kids are so moved by LCC like I was so many years ago, I'm just concerned that it may be difficult to impossible for them to fill that need," Lewis-O'Connor says. "That just kills me because I think, my experience with LCC completely shaped the course of my life. And we don't know yet if that is happening for current students right now, but to take away that possibility is kind of mortifying."
Lewis-O'Connor says he's been happy to show the kids in this year's choir that it is possible to "make it" on one's talent and love of music. But, he says, it's hard to reconcile his positive experience with the state's cutbacks.
"It's kind of unbelievable because the arts don't need any help in struggling. The arts need all the support they can get because I think there's this sort of traditional stigma that you can't make a living being a musician," says Lewis-O'Connor, who did just that the past four years touring with Chanticleer. "I guess at the end of the day, I feel like musicians of any age don't need any more discouragement. I think the only thing they need is encouragement. And particularly when that discouragement is financial, I think it's really, really scary."