Friday, February 25, 2011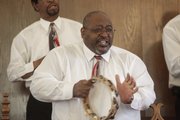 Musicians from Lawrence and area communities will come together Sunday to celebrate Black History Month, as well as the many cultural and ethnic groups in Lawrence.
St. Luke's AME Church, 900 N.Y., will host the annual Black History Month Musical at 3:30 p.m. Sunday. What started as a way to fill the pews has grown into a citywide event celebrating its fifth anniversary.
The Rev. Verdell Taylor, pastor at St. Luke's, said music is a way to express religious feelings.
"People really like the music, and they can really relate to the music," Taylor said. "The music says so much and affects people in a sincere, heartfelt way."
There will be about 12 groups, including the choir from Plymouth Congregational Church, vocalists from Lawrence Indian United Methodist Church, a gospel group, praise dancers and a saxophone player. Taylor said each group will present two selections and the program will be about two-and-a-half hours long.
Taylor said the program recognized the African-American heritage, where song was important for communicating messages and giving hope to slaves.
"To be uplifted spiritually, you should come to it to be around other people who are enjoying music and understand celebration through music. You get to hear the heritage of African-American struggles," he said. "The music, it touches your inner being, your soul."
Joyce Pearson, one of the organizers of the event, said the event was also meant to bring the community into the building, which was renovated and completed in the last year.
"We enjoy having people from all over Lawrence and this area come to this church," she said.
Taylor said that every year people came to the concert who had never heard traditional African-American music before.
"They come expecting to hear some black music, and they're hearing something that is different," he said.
The concert is free, and a reception will follow in the basement of the church.
More like this story on Lawrence.com