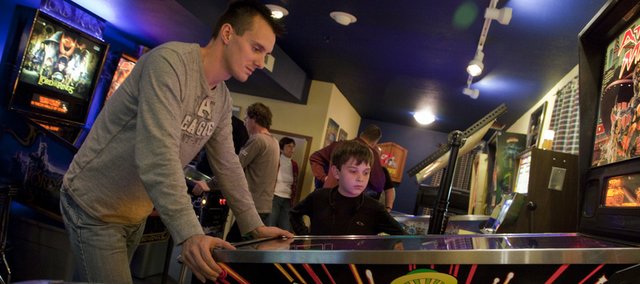 Photo Gallery
Pinball Wizard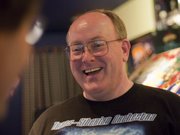 Gary Martin's pinball machines
Eight Ball Deluxe, released in 1980
Twilight Zone, released in 1993
Attack from Mars, released in 1995
Medieval Madness, released in 1997
Monster Bash, released in 1998
Lord of the Rings, released in 2003
On the street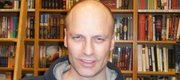 Gary Martin sure plays a mean pinball.
You might say he's a pinball wizard, but not only at the flippers of the game. He's a wizard of the game's mechanics, and restores the incredibly intricate arcade games. Six have a home in his basement and countless others have moved through his basement workroom.
Martin, also known around town as the man on Parkside Drive whose Christmas lights are programmed to music during the holidays, has a background in engineering that lends itself to his intricate hobbies.
But pinball is his first love.
As a high schooler in Atchison, he first started playing pinball on the Eight Ball Deluxe machine.
"It was in a bar that I wasn't supposed to be in," he said. "We would sneak into it. We weren't drinking, we were just playing pinball."
Now, as a 47-year-old IT professional at Lawrence Paper Co., Martin has plans to restore an Eight Ball Deluxe machine he found in Wichita. After more than 100 hours of work and thousands of dollars in new parts, Martin will have done his part to restore history.
"It's hard to find anybody who doesn't know what a pinball machine is," he said. "They really are an iconic part of our history."
Pinball machines that people see today have roots back more than 100 years and had a close relationship with cars.
Companies originally built the games with automobile parts. Flashing lights were actually turn signals, and lights in the playfields were made with dashboard lights. Early versions of the game had players launch the ball and just leave the rest to fate, until flippers were introduced in 1947.
As video games became more popular, some arcade companies started shutting down their pinball operations. About that time, Martin got into restoring machines. For a few years his interest dwindled as prices went up, but two years ago he decided to get back into it.
"It's a little pricey to restore some of these vintage ones, but well worth it," he said. "I've got a bunch of favorites here. I hang on to those."
One of those favorites includes his latest restore job, Attack from Mars. The machine he found, originally released in 1995, spent its early life in a bar. The playfield was worn down from hours of play, the art on the outside was singed and an alien in the machine had been replaced with a rubber chicken.
"It was almost ready to go to the landfill," he said.
Two months, $3,700 and 100 hours later, he had restored the machine.
"Most people don't go at them as quickly as I do," he said. "That's one that we're going to hang onto."
Martin surrounds himself with people who love pinball as much as he does. His wife, Mary Ann, is hooked on the game, and she said their 11-year-old grandson has been playing since he was tall enough to reach the flipper buttons.
Martin also has collectors over to his house to play the games, hailing from Basehor, Prairie Village and Wellsville. The collectors are in an online group that talks pinball and keeps an eye out for available games.
"You can play pinball machines for months and months and never see all the features," Martin said.
Jeff Collins, a collector from Prairie Village who recently visited Martin's basement collection, sometimes buys machines Martin has restored. Collins, who has 15 games in his basement, admires the simplicity of the games.
"To me, that's what's so cool about it. Even if you've never seen one, you know how to play it," he said. "It's about how long can you keep the ball going.
More like this story on Lawrence.com