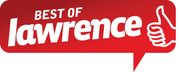 Voting for Best of Lawrence 2011 begins Jan. 24 but you can weigh in on each category and candidate. Today we take a look at contenders for the best Asian food and best breakfast in town. Let us know if we've missed any of your favorites.
And be sure to check out and weigh in on the other categories we've posted so far:
Best Place for a Date, Best Wifi Hotspot and Best Bar
Best Live Music Venue and Best Bookstore
Best Coffee, Best Burger and Best Place to Dance
Best Latin American Food and Best Middle Eastern Food
Best Pizza and Best Italian Food
Let's take a look at today's categories.
Asian Food
Dondon Japanese Rice and Noodle Bowl Shop
Breakfast
International House of Pancakes