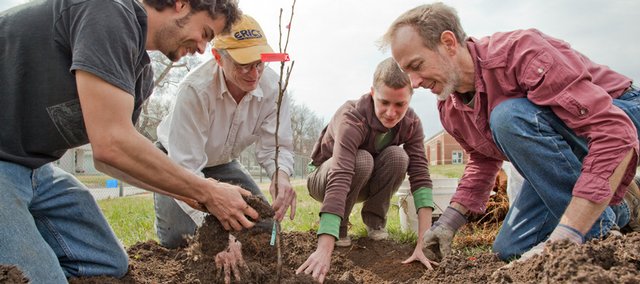 Skyler Adamson would love it for any resident in Lawrence to be able to walk down the path in a park, through school grounds or out their own front door and get a quick snack.
It could be a pear, apple, persimmon, but whatever it is, it would be readily available, free and even quicker than another trip to the vending machine.
This is the world of The Lawrence Fruit Tree Project. A collaborative effort among plant lovers, food lovers and activists, the project is encouraging the planting and care of fruit trees around the city.
The fruit tree project is the brain child of Adamson, an East Lawrence home gardener with an affinity for fruiting trees.
"You can have an apple tree for 100 years," he says, making the tree sound like a long-term gift as well as an investment. "A lot of people want to know how to grow fruit trees, but there aren't a lot of people accessible in the community who can teach, so that's my goal, is to help teach people to help proliferate an edible cityscape."
Adamson sent feelers out into the community two years ago after deciding to form a group and ended up hooked up with an assortment of fruit lovers and activists. Activists like Jason Hering, a Kansas University student, who says the group piqued his interest because of its spot as a crossroads for many food-related projects.
"LFTP was a community group that represented several personal interests regarding local food security, getting more fruit trees on the KU campus, and various other projects I'm involved with," Hering says.
Among the group's specific goals:
• Working with schools to create orchards on the grounds, and giving teachers materials for lesson plans around fruit trees.
• Providing assistance and knowledge to help fruit orchards become a part of community garden projects.
• Creating and maintaining a database of fruit trees on public and private property.
• Giving resources to private residents who want to plant their own fruit trees.
• Producing proposals for fruit trees to be planted on public lands.
• To reword a city ordinance to make it easier for residents to pluck fruit from city-owned trees.
In the past two years, the group has planted trees at locations such as New York School, 936 N.Y.; Free State High School, 4700 Overland Drive; the Ecumenical Christian Ministries building, 1204 Oread Ave.; the KU Student Farm north of town; Babcock Place, 1700 Mass.; Faith Church of the Nazarene, 1020 Kasold Drive; the Ad Astra Student Cooperative, 1033 Ky., and even the Douglas County Correctional Facility, 111 E. 11th St.
"The fruit tree plantings and the garden project out at the correctional facility was seen as a really positive element," Hering says. "The fruit and nut tree plantings at Ad Astra Student Co-op was also a big hit given that the student co-ops control their land and will have a revolving new groups of students living in these spaces where they can directly see, use and spread the word about the benefits of fruit trees within the city limits."
The plantings have been the easy part, it's the picking that can be difficult, especially as it relates to trees on public property.
Members say that with private property, the etiquette is clear: Ask the owner, and once you get the go-ahead, pick. With public property the rules are quite different — City Code 14-303 officially prohibits picking, or gleaning, as it's called, from city trees, stating: "No person shall willfully injure or destroy any plant, tree, vine or flower, the property of another, standing on or attached to the land of another, or shall pick, destroy or carry away therefrom or in any way interfere with any part of the flowers or fruit thereof."
The group would like the wording to be changed so that fruit can be picked from fruiting plants on public land and those who pick the fruit cannot in any way harm the plant, says member Byron Wiley.
Mark Hecker, assistant director at Lawrence Parks and Recreation, says that the city's code is standard and says it protects the city's very expensive investment in its plants.
"We spend a lot of money to install landscaping and plants in the parks, and we're basically trying to insure that they stay there once we put them in," he says. "So, to draw a line that this is OK here but it's not OK here, that's kind of a difficult line to draw."
And besides the city's investment, there are also concerns about injury to both the trees and the people gleaning from them. He says if someone fell out of a city tree while picking fruit, the city could be at fault. Also, inexperienced gleaners could pick fruit at the wrong times and cause a tree to be damaged.
That said, working on the ordinance is only a small part of what the group hopes to accomplish in the coming years — years Wiley hopes are filled with neighborhoods and community groups seeking support for more plantings.
"We can offer that expertise to the groups," Wiley says. "We don't want to have the ownership of the trees, we'd be stretched too thin, just helping little projects get started that could be embraced by a neighborhood group, if there's an empty lot or one they're allowed to plant on."
— Staff writer Sarah Henning can be reached at 832-7187.