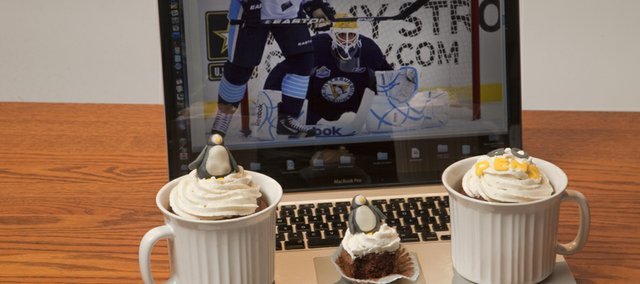 Well, I warned you. I love to combine my passions for sports and baking. And this is what happens. Winter Classic cupcakes.
This is the fourth year for the Winter Classic, the National Hockey League's outdoor game on New Year's Day. This year's game was between the Pittsburgh Penguins and Washington Capitals at Heinz Field in Pittsburgh.
I'm a fan of the Pittsburgh Penguins. I'm not from Pittsburgh. I've actually never been to Pittsburgh. But one of my best friends is from Pittsburgh. That's as close as I get. Don't judge me.
I invited some friends over to watch the game and decided to make penguin cupcakes. This is far from the first time I've bribed my friends to watch hockey with me by baking for them. For example, there was the first United States-Canada game in the Olympics last year, complete with star and maple leaf sugar cookies. Then there was the rematch in the gold medal game, chased with apple pie and Nanaimo bars.
Coming up with a flavor for the Pittsburgh cupcakes wasn't so easy though. No one wants a sauerkraut pierogi cupcake.
So I decided to go with a classic winter flavor: hot chocolate with peppermint buttercream. Hockey played outside screams hot chocolate.
I even bought a couple of oven-safe mugs to bake the cupcakes in. Penguins plus hot chocolate cupcakes in mugs almost equals too much adorableness for a hockey game.
But I figure these cupcakes are good for more than just hockey games. Snow days. Ice days. Or any cold, dreary Kansas winter day.
I took my great-grandma's dark chocolate cake recipe and adapted it with hot chocolate. The first version turned out kind of dry and lacking a chocolate punch. So I decided to give it another try.
Instead of using mor hot chocolate to make it chocolatier, I added 5 ounces of semi-sweet chocolate. They still aren't perfect, but much better the second time. (Thanks to my friends and family for eating the dry version. You guys are the best.)
Then I took the Betty Crocker recipe for vanilla buttercream and substituted peppermint extract for the vanilla extract. It added the perfect kick of mintiness.
I figure you could also make a marshmallow frosting, which would go well with the hot chocolate cupcake. Or you could add coffee to the cupcake recipe and have a peppermint mocha cupcake, also adorable when served in a mug.
I dressed up with the cupcakes with penguins I made out of fondant. Penguins are a simple shape, so if I can make fondant penguins, you can, too.
And of course, I had to have a No. 87 (Sidney Crosby) and No. 29 (Marc-Andre Fleury) cupcake.
While cute, the cupcakes turned out to be not so lucky. The Penguins lost. But don't worry. There will other hockey games to bake for. The Frozen Four will be here in no time.
Hot Chocolate Cupcakes
1/2 cup hot chocolate
1/2 cup milk
1 cup sugar
1/2 cup butter
3 eggs yolks creamed together
3/4 cup milk
2 cups flour
1 teaspoon baking soda
5 ounces of melted semi-sweet chocolate
3 egg whites
Directions: Heat hot chocolate and 1/2 cup milk in saucepan. Combine sugar, butter, egg yolks, 3/4 cup milk, flour, baking soda and semi-sweet chocolate, then add hot chocolate mixture. Whip egg whites until stiff, then fold into batter.
Bake at 350 degrees for 20 minutes for regular cupcakes and 30 minutes for the mugs.
Peppermint Buttercream Frosting
4 1/2 cups of powdered sugar (1-pound box)
1/2 cup butter, softened
2 teaspoons of peppermint extract
3 tablespoons milk
Directions: Combine.
— For more photos and ideas, check out Nikki's blog at www.adventuresinbaking.posterous.com.