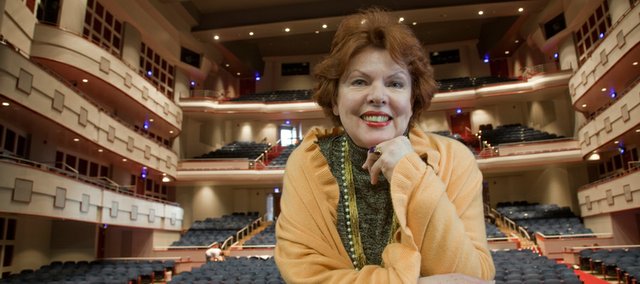 Thursday, January 20, 2011
Long before mezzo-soprano singer Joyce Castle became a professor at Kansas University, the School of Music created a major just for her: Bachelor of Fine Arts in Theatre and Voice.
"I was a high school student in Baldwin City at the time," Castle recalls. "I was singing all the time — recitals, contests, musicals. The people at KU saw me and decided that this would be a good major to offer."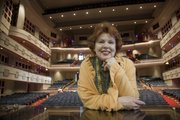 It turned out to be wise decision. After graduating from KU, Castle has gone on to represent her alma mater well with a long and illustrious career.
She has performed on stages around the world — the Metropolitan Opera, the Kennedy Center, the National Opera in Washington, Teatro Regio di Torino, the Théâtre du Capitole in Toulouse, the De Vlaamse Opera in Antwerp and many others.
In a profile of Castle published recently in "Opera News," composer Jake Heggie said, "she has real star quality — that special something that makes you love her, care about her and want to know more about her from the moment she walks onstage. When Joyce is onstage, just try to take your eyes off of her. Just try."
Castle will celebrate 40 years of performance with a free concert at the Lied Center on Wednesday. To commemorate her ruby anniversary, she will perform "The Hawthorne Tree," a song cycle composed for her by William Bolcolm, winner of the Pulitzer Prize, National Medal of Arts and numerous Grammy awards.
The songs were created from poems by women. "[Bolcolm] told me, 'I want to show your range of emotions,'" Castle says. "I was surprised that he, in my opinion, got me."
She premiered the piece in New York last year.
"It was a real thrill," she says. "A big a experience. A lot of emotion. To do a New York world premiere for a composer who is a Grammy- and Pulitzer-Prize winner. Before that walk out on the stage, I had to take a big breath."
Castle first attended an opera when she was a high school student. Her sister, who was then a student at Baker University, took her to Kansas City to see "La Boheme."
She already knew then she wanted to be a singer.
"Lots of singers know at an early age," she says. "People say, "You sing? Sing for us.
"My life is music."
Her night at the opera, however, was particularly inspiring.
"In my opinion, opera is just the ultimate," she says. "It's the hardest. It asks so much of the voice — to stand up with a full orchestra, without the aid of a microphone, and tell these wonderful, wonderful stories
Castle returned to Kansas in 2001 to teach.
"They lured me back," she says. "I consider it my home now.
"It's very good for me to teach," she adds. "It's quite a fascinating profession, because each voice is so very different."
Being a professor offers her an opportunity to give back some of what she has been given through her career in music. The same is true for her upcoming concert.
"I'm very thankful for the support the Lawrence and Baldwin communities have given me all these years. We hope to give them a good show."
More like this story on Lawrence.com