Though she admits she may not be the next Jane Austen when it comes to writing, Kansas University alumna Lindsay Brin has plenty of other things to be proud of these days.
Since the Chicago native launched her Moms Into Fitness business in 2004, she has since released 13 workout DVDs, a book on women's physical fitness, and currently has a network TV show and infomercial in the works.
"You can't hire somebody to do that work for you—you've got to put in the hours yourself. Some people might call that micromanaging," she says.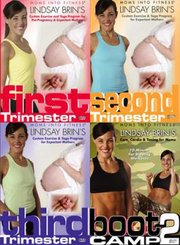 Did we mention Brin was also the fitness trainer for the NFL's St. Louis Rams cheerleaders before joining the squad a year later?
"It was absolutely an amazing experience," she says. "It wasn't like the Dallas Cowboys cheerleaders where they have to dye their hair a certain color and get kicked off the squad for gaining weight. We were never weighed or judged."
Call it micromanaging or good old-fashioned hard work ethic, Brin attributes her success to sheer perseverance and the continued love and support of her family.
"We all expect things to go really well when first starting a business, but you've got to work and be patient," she says. "Things happen when they're supposed to, I guess."
And happen they did.
Soon after the release of her sixth DVD in 2007, a book agent from the international Penguin Group publishing company found Brin's Moms Into Fitness website and convinced her to write a book based on her exercise expertise.
"I always have a lot to say, and I talk a lot and really fast," she says, "but I never thought I'd be writer."
"The Cheerleader Fitness Plan: Get Fit and Fabulous in Just Six Weeks!" was released in December 2009 and details Brin's experiences as an NFL cheerleader as well as a workout plan for any female, no gym membership required.
"I thought I was going to be the outcast because I tried out when I was 26," she says, "but everybody was in their mid-twenties, had college degrees and were very solidified in their careers. It was not what I'd perceived or what most people perceive of cheerleaders."
Brin became a writer once again to pen her second book, "How to Exercise When You're Expecting: For the 9 Months of Pregnancy and the 5 Months It Takes to Get Your Best Body Back," which will be released March 29. The book, based on research Brin did with a team of medical doctors at Southern Illinois University, details everything from morning sickness and weight gain to safe pre- and post-natal workout techniques. "You should be able to talk while working out, and that's how you know you're doing the right intensity while pregnant," she says. "You shouldn't be able to sing a showtune."
Brin says she emphasizes concentrating on the inner core muscles, or the pelvic floor and transverse abdominis, before toning the outer muscles in the abdominal region.
"You can't jump into P90X (a hard-core home fitness program) after having a baby," she says. "You can actually do more damage to muscles if you do traditional crunches before getting health and integrity back into the core."
A 2001 graduate of KU's exercise science program, Brin says she wouldn't have had such opportunities if it weren't for the knowledge she gained in class and from mentors like Bob Lockwood, a health, sport and exercise science faculty member who retired the same year.
"Some students come in and it takes them awhile to find their niche, but she was one that was very personable and goal-oriented right off the bat," says Lockwood, who remembers first seeing Brin in one of his large lecture classes when she was a freshman in 1998.
"She impacts everyone around her with that kind of energy," he says.
After Brin finished a season with the St. Louis Rams, she and her husband tried unsuccessfully to have children before seeing an in-vitro fertilization (IVF) specialist one year later.
After two unsuccessful in-vitro treatments, including a miscarriage, Brin gave birth to a baby girl in 2008. Brin extended her family once again with the birth of her son in 2010 after enduring several unsuccessful fertility treatments and a vanishing twin.
Now, Brin is two months pregnant without any fertility treatment and is a representative for Fertility Lifelines, a free confidential hotline that provides education and support to those who have questions about fertility health.
"Though I work hard, things have kind of come my way as I've gone along," she says. "My family is my support system."
As for authoring another book, Brin isn't as enthusiastic.
"If you see another book of mine out there, it must be because they gave me a large sum of money," she says laughingly. "It's not worth spending too much time away from my kids that I worked so hard to get."
More like this story on Lawrence.com