Thursday, January 27, 2011
As tablet and digital reader technologies continue to rise in popularity, more and more people are electing to download their books and magazines rather than stock their shelves with them. But there were at least two people in the world who weren't bragging on Facebook about their new Kindles this past holiday season: Heidi Raak and Kate Lorenz, creators of Lawrence's newest literary journal, Parcel.
With a penchant for the printed page, Raak and Lorenz have spent the past six months making a publication that would be a work of art in itself. And this week, the pair will begin sharing Parcel with the rest of the world.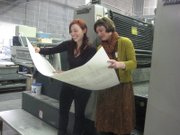 Raak, owner of The Raven Book Store, 6 E. 7th St., had always dreamed of getting involved in some sort of literary publication, but it wasn't until she met Lorenz last year that she finally got her chance. Lorenz, a Lawrence native, had recently returned to town from graduate school at the University of Alabama, where she served as the editor of the school's renowned literary magazine, the Black Warrior Review. Lorenz contacted Raak about working on a project together, and Raak eagerly accepted.
Excitement about this joining of forces spread quickly. Daniel Hoyt, who teaches fiction writing at Kansas State University and contributed a short essay to Parcel's first issue, says he was hoping Lorenz would act ambitiously when she returned to Lawrence.
"I think I heard about the partnership with Heidi and the creation of Parcel in an e-mail from Kate sometime in the fall," Hoyt says. "I believe I cheered or pumped my fist, possibly both. It's great news for the Kansas literary community."
With Lorenz acting as editor and Raak as publisher, the pair worked tirelessly to set up a not-for-profit organization for the publication, solicit writers and funding, read the more than 500 submissions they received and edit the batch they selected for the first issue.
"We weren't thinking about the challenge; we were going to get it done," Raak says.
Though Parcel has a national focus, Raak and Lorenz have a soft spot for Kansas writers, and say they are proud to be a part of the Lawrence literary scene.
Both Raak and Lorenz say it was important to them not only to create a journal full of beautiful writing, but to make a beautiful physical product as well. For that purpose, they enlisted designer Justin Runge, who worked with Lorenz as the designer of Black Warrior Review and also works for Blue Hour Press, ensuring that Parcel will be something worth holding on to.
"It's more than the literary aesthetic," Lorenz says. "It's about the look and the feel of the tangible object."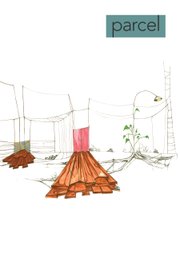 And that love for the printed page is something Raak and Lorenz share with the publication's writers. Hoyt says that while he acknowledges the reach of online publications and literary websites, the elegance and beauty of a book cannot be replicated by a computer.
And with this emphasis on the physical, Raak and Lorenz are thankful to have found a name for their journal that encompasses their vision.
"With our focus on the object, something being sent in the mail, it was perfect," Lorenz says. "We like the preciousness of it."
Raak and Lorenz plan to put out Parcel biannually, and have already started reading for the second issue, due out this fall. Each edition will house a diverse collection of poetry, short fiction and nonfiction.
Keeping with the two's aesthetic aims, every issue will also have an eight-page spread devoted to a visual artist. The artist featured in the first issue is Jaclyn Mednicov, a KU graduate. Mednicov's work featured in Parcel is a collection of whimsical, surreal images that comment on the relationship between nature and man-made structures.
The pair had Parcel published at Allen Press, which satisfied two of their wishes — keeping production as local as possible and as environmentally friendly as possible. Parcel was printed on Forest Stewardship Council-certified paper with soy-based ink.
The next step for the Raak and Lorenz is to get Parcel into as many hands as possible. Raak plans to use her connections with other independent bookstores around the country to get some space on their shelves, and Lorenz will be traveling to the Associated Writing Programs conference in Washington D.C. next week to show off Parcel to potential distributors.
"I'm a little anxious, but am confident that we put out the best, most
lovingly assembled journal possible," Lorenz says. "We're really looking forward to
seeing how the magazine measures up."
You can pick up an issue of Parcel at The Raven Book Store or find more information at the Parcel website.