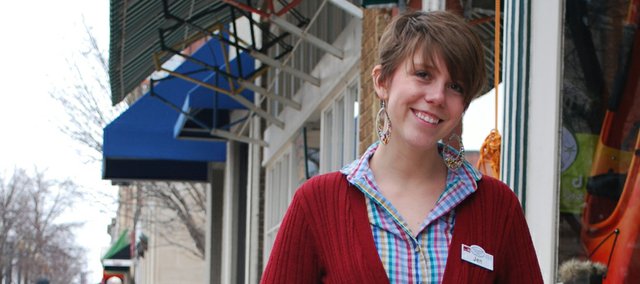 Thursday, January 27, 2011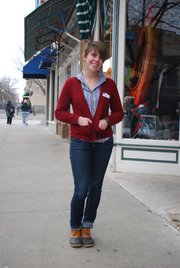 Name: Jen Beck

Age: 23

Sign: Virgo

Occupation: Sunflower Outdoor and Bike Shop Employee

Hometown: Newton, KS

Time in Lawrence: Getting close to 5 years
.
What were you doing when you were scouted? Working at Sunflower.

How would you describe your style?  I have a tomboy side and a feminine side, and I express them both.
What are your current favorite fashion trends? Flannel or button-up shirts, sweaters, dark jeans, vintage or classic shoes, and big earrings. Oh, and weather appropriate attire. If you look cold, you don't look cute.

What are your least favorite fashion trends? Scrunchies, cork-wedge shoes, tights as pants, and stocking caps designed to look like animals (unless you are a little kid).

What would you like to see more of in Lawrence? Pearl snap shirts and dress shoes on men, bike lanes, curb-side recycling, and mountains.

What would you like to see less of in Lawrence? Un-shoveled sidewalks, creepers, and haters.

Do you have any piercings/tattoos? Yes to piercings. Not yet to tattoos.

Do you have any fashion influences? My friends. They are who they are, and they are honest with me.

People say I look like... My mom, and that Pomplamoose chick from the Christmas Toyota Hyundai commercial.

Tell us a secret: Tigers love pepper. 
More like this story on Lawrence.com