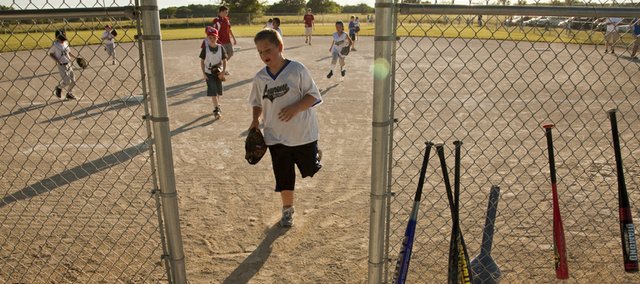 Apple pie, rock 'n' roll and baseball: America's dessert, music and game, right?
Well, don't tell that to the cupcake, America's dessert du jour. Or to today's pop music, which is more roll than rock. And baseball — has the old ball game really struck out? Could it be that basketball or football has replaced as America's game?
Yes and no.
Tastes change, but it's nearly impossible to tell if, on America's 235th birthday, baseball is still America's game. By some measures it looks like it hasn't been topped, but by others it seems like football and basketball have scored a bigger place in America's hearts.
Play ball
From a pure participation standpoint, baseball isn't king nationally says Mike May, director of communications for the Sporting Goods Manufacturers Association, which tracks participation statistics in 117 various sports and recreational activities.
Tops as far as team participation? Basketball with more than 26.3 million participants. Baseball is third with 14.6 million participants. Holding down second place? A surprise: volleyball. Fourth is outdoor soccer.
Locally, Lee Ice, the youth sports supervisor for Lawrence Parks and Recreation, says there are about 1,700 kids who play softball and baseball each year and about 1,250 playing basketball. He says, though, that those numbers might be skewed by the lack of available gym space — there are more fields than indoor basketball courts. On the adult side, Ice's adult sports cohort, Bob Stanclift, also indicates that space might cause a skew in the numbers. He says there are about 7,600 participants in adult softball, while basketball gets 1,500 and volleyball stands at about 2,300 per year.
Besides facilities, something else to consider about the numbers is the trend of specialization. Mark Hyman, author of "Until It Hurts," says that from his research it's safe to say that specialization is damaging all sports, baseball included. He says this one-trick pony effect comes from success stories like Tiger Woods — a child prodigy who became rich and famous by his 20s.
"I've written a lot about this and I think it's driven in part by this idea that if you start your child early enough in sports and if you train them aggressively in that sport, if you give it all you got — financially, and otherwise — that you can turn your child into a super athlete," Hyman says.
By the time multi-sport kids are older, they also tend to specialize because the time commitment they must give each sport says Debbie Rogers, whose son Jake, 15, was able to compete in baseball, football, wrestling and track when he was younger. Now, the Free State High sophomore only plays baseball and football.
"The older they get, because of the demands on playing the sports with practice," says Rogers, specifying that Jake has weights, practice, games, etc., to shoehorn into his schedule. "It's one of those things that if you don't truly love it, you'll probably drop out of it because it does require a tremendous amount of commitment from time, effort and dollars."
Yes, there's a lot competing for kids' time these days, points out May.
"Frankly, the biggest competitor of baseball and the biggest competitor of all sports is not really basketball or football or tennis, it's really IBM and Microsoft and Apple," May says. "There's now more things to do, but not more time to do them in.
Game on
Lack of time also affects another major cog in our question of America's favorite sport: viewership. If kids don't have time to play, the probably don't have time to watch, either.
Bud Stagg, father of Jake Rogers' teammate Ryan Stagg, says his son won't watch baseball — a sport in which he specializes.
"It moves too slow," Stagg says. "He'll watch highlights all day long on ESPN, but he won't sit down and watch a game."
MLB attendance numbers are down too. For example, the New York Yankees drew an average of 46,491 fans per home game in 2010. In 2004, the year the league first instituted steroid testing and BALCO transcripts featuring star slugger Jason Giambi were leaked, the Yankees averaged 47,788.
Bret Toelkes, president of Lawrence Youth Football, doesn't think it's the scandals or other activities that's to blame for baseball's slowing numbers, he just says there has simply been a massive change of taste.
"I think America's favorite game is NFL football," Toelkes says. "You have people who never ever have played the game in their lives, but know everything. ... So, they feel connection to it."
Meanwhile, Kansas broadcasting legend and Lawrence native Max Falkenstien has a different opinion. To him, there is no real unifying sport — it's all about regional tastes.
"In Lawrence, Kan., everybody's sport is Kansas basketball," he says. "And if you lived in New York, you probably don't know Kansas Basketball exists, but you know about the Mets and the Yankees ... that's what you talk about. But in Lawrence, Kan., we don't talk about that. And so it all depends on where you live — I really believe that."
Hyman concedes that regional differences and outside influences have affected baseball's status, but he says, the shared cultural significance might give the old ball game an edge for years to come, especially over "new" sports.
"Our language is full of allusions to baseball, you know, striking out, hitting a home run, circling the bases. I mean, you can't have a conversation with somebody without some reference to baseball coming up eventually," Hyman says. "I think as a cultural institution, baseball is deeply embedded into our lives in ways that hockey and lacrosse and soccer aren't and never will never be."