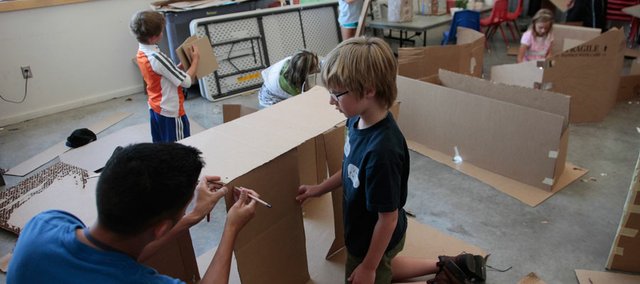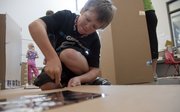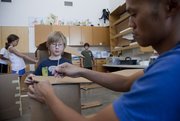 Kansas City artist Juniper Tangpuz is a kid-friendly artist.
"I try to reach out to a lot of different age groups, but because of my humor and the themes I follow, a lot of it extends from my childhood," he says. "I guess I'm just a big kid, but I do adult things, like paying my bills. I feel like a bridge. I have kid energy, but also the skills of an adult."
This week, Tangpuz has been able to put both his youthful energy and artistic skills to work as a visiting artist in the Lawrence Art Center's summer camp program for students in grades one through five.
As part of a week-long camp session called "Creating Gotham City," Tangpuz is collaborating with the campers to, in the words of the Art Center's website, "Design and build the greatest city in the world, create pop street art and disco dance in the streets to celebrate your creations."
"It will be New York-inspired," Tangpuz says of the model metropolis they're erecting. "Though it's more what kids would imagine."
His aim is to encourage children to be more conscious of urban environments, how they're made and what purposes they serve.
"I hope this is getting kids to be aware of they live, to be more conscious of their environment," he says. "I hope for the kids to realize all the things that are inside their city and just to be more aware. I ask them to look at the buildings inside the city while we're working on this, to notice the windows and the signs."
The idea for the cardboard city came out of a smaller-scale project the Art Center hosted last summer. Students were given loads of cardboard to work with in a free-form creative project called "Art Mayhem." The project evolved into "Box City," as the kids created a model of a bustling bird with the recyclable materials, says Jessica Conner, education coordinator for the Art Center.
The project was well received by the Center's staff and patrons alike, so they decided to do it again this year on a bigger school.
In the months leading up to this summer's project, Conner collected cardboard from a variety of local businesses, including the Journal-World.
As a sculptor who works with paper, Tangpuz seemed the obvious choice for the project.
"I love cutting cardboard," he says. "I've had a long relationship with cardboard, since I was a kid. It has that kind of feeling that's familiar. And there's a lot of it."
"It's fast enough to keep up with the things I imagine," he adds. "It would take a lot longer to bring my imagination to live working with stone or metal. He concedes, however, that there are some hazards associated with the medium. "I get some paper cuts."
Tangpuz was also a natural choice because he's popular.
"Juniper has had some pieces shown in the Art Center, and he's kind of become a perennial favorite. His work is quick, playful and easily collapsible," Conner says.
"I love to work directly with kids," Tangpuz says of his experience. "It brings me back to when I was a kid. Though, when I was a kid, it was kind of a lonely experience. Here at the Art Center there's more of a community."