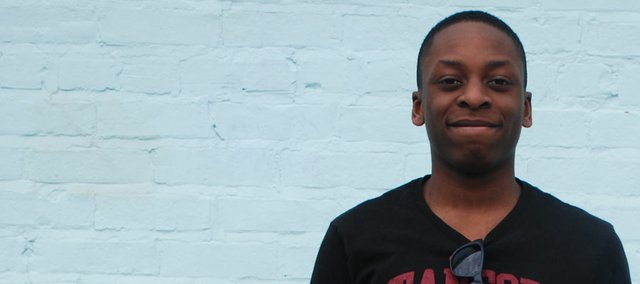 Name: Unimuke Agada
Age: 16
Sign: Gemini
Relationship status: Single
Hometown: Topeka
Time in Lawrence: I used to live in Topeka, so I visit Lawrence every so often.
Occupation: Why, are you hiring?
What were you doing when scouted? Shopping downtown.
How would you describe your style? I've been called a "preppy hipster."
What are your current favorite fashion trends? I used to wear a lot of V-necks, but they're a bit too popular now. I'm currently a fan of the fitted-shorts trend.
What are your least favorite fashion trends? The whole 'make it pop' trend. I think it was started by New Boyz. I mean, I'm OK with being colorful, but if you're a threat to epileptic people, turn it down.
What would you like to see more of in Lawrence? Men's clothing stores.
What would you like to see less of in Lawrence? Wiz Khalifa fans.
Do you have any piercings or tattoos? Nope.
Do you have any fashion influences? I owe most of my style to my brothers. I'm also a big fan of Kid Cudi's music and personal style.
People say I look like: My two most common comparisons have been Diggy Simmons and Wesley Snipes. Not sure how I feel about either of them…
Tell us a secret: When I was 13, I had my first love. There was nobody that compared to my baby and nobody came between us or could ever come above.
More like this story on Lawrence.com