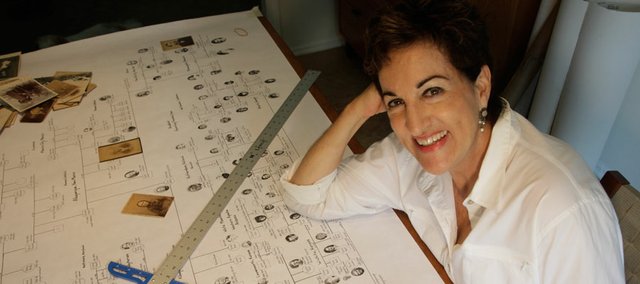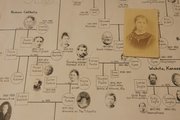 Judith Levy's artwork has always tried to tell a story. Working as an artist, writer and director, she merges real-world facts with the slightly fantastical to create what she calls "faux documentaries" — films explaining her take on problematic subject matters.
"I'm inspired by my great love of history and my love of fiction," she says.
Recently, Levy was awarded a Rocket Grant for her work, "NV in KC." She says the project is a look at one of the most difficult emotions for artists to deal with: envy.
"It's a touchy subject among artists," she says. "We want to take a look at how it affects people personally and how it's been looked at historically. It's a very strong human feeling to have and it's one that artists don't talk about and feel bad about."
Designed to help grow burgeoning art scenes nationwide, the Rocket Grants, funded by the Andy Warhol Foundation and distributed by the Spencer Art Museum and Kansas City's Charlotte Street Foundation, awarded 10 regional artists and art groups $4,000 each on June 15. The project also focuses on bringing art to those people who normally wouldn't view it and on non-traditional forms of art.
Rocket Grants Program Coordinator at Charlotte Street Julia Cole says the Kansas City/Lawrence art scene is highly regarded by the Warhol foundation and is one of only four markets nationwide to receive this funding. All artists within an 80-mile radius of Kansas City may be considered for the award.
"The Warhol Foundation is impressed with the Kansas City art scene," Cole says, "so they awarded us with this grant. They wanted it to be a regional award, so not just in the Kansas City area. So, we're working with the Spencer. There really is a sense of 'get out and build a strong community in this entire region,' so we've worked together as partners to implement the program."
This is the second year of funding for the Rocket Grants, a program Cole says has recently been renewed by the Warhol Foundation for another two years. Cole is confident the funding will continue into the future.
"Sometime in the next 18 months or so we'll be doing a bigger review of the process and going back to them to apply for more, longer-term, funding. In terms of whether things will change with the kind of work or the kind of outreach, in the fall we'll review how this round has gone and discuss whether we want to expand or change."
Cole says that Charlotte Street and the Spencer always try to keep a pulse on what local artists are looking for in regards to support. She says the goal is to assist artists, whether they win a Rocket Grant or not.
"One of the things that we try to do as organizations is to really listen to what the arts community really needs and try to be responsive. We do try to evaluate what's working and what things can actually be improved to help artists. One of the things we've done so far is, on both rounds, we've given feedback after their applications. Whether they win or don't win, they get feedback on what they've done well and what could use improvement. I've heard from a lot of artists that this has been really helpful for them."
Rocket Grant winner and printmaker/illustrator Eric Dobbins says this is the first art grant he's ever received and he's, "extremely honored and thrilled" to receive it.
Dobbins' project, in partnership with Kelly John Clark, is Field Trip Publishing, an organization that will design, publish and distribute local artists' works. The goal is to push artists out of their usual niche while creating various types of media, everything from T-shirts to prints to stickers, magazines and more.
"I would say (a Rocket Grant) helps folks develop projects that they hadn't thought about," Dobbins says. "For me, it was taking on an idea that I'd had and a practice I'd developed so I could expand upon it and it could become something useful that would be more community-based.
"I think this was a perfect fit for where I was and the work I was looking to do. Basically, seeing this opportunity and feeling like I needed to pursue it. If anything, even if I didn't receive any money, this process was helpful."
Beyond the money, Dobbins says there's a deep sense of satisfaction that comes from winning an award like the Rocket Grants.
"I feel like after putting in the last three years, it's prepared me for future opportunities. This was the first one I'd taken a stab at. So it was reassuring in a sense — like all of my artwork was not for nothing, you know."