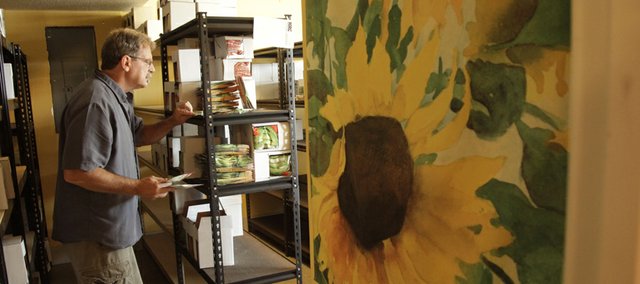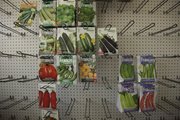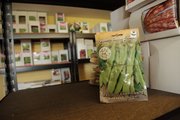 The term "sowing seeds" can make a million metaphors in the business world, but Dan Nagengast and Lynn Byczynski are taking the term to new metaphorical and literal heights.
The husband-and-wife team have planted a new business right in the basement of their rural Lawrence home — Seeds from Italy.
As of July 15, Seeds from Italy is selling Franchi seeds in more than 500 varieties through a soon-to-be revamped website — www.growitalian.com — and displays set up in garden, hardware and specialty shops around the country.
The seed that grew into their new lives as agents for a seven-generation Italian seed company was sown 10 years ago. That's when the company's previous owner Bill McKay started advertising in "Growing for Market" — a publication for which Byczynski is editor and publisher.
"He just called me to renew his ad this year and just in the course of chatting with him, told me he was trying to sell his business. He was ready to retire," Byczynski says. "And I don't know, for some reason I just instantly knew it was going to be a good fit."
Byczynski hung up and immediately called Nagengast, who was in New Orleans at a conference, and asked him to check out a Italian specialty shop in the French Quarter that had a display of Franchi seeds. He did and was blown away by the seeds, which come in large, colorful packages and unusual varieties. The store only had a small amount, but the full catalog of 2,700 Franchi seeds reads like a botany book — dozens of regional types of beans, zucchinis, tomatoes, basils, chicories and on and on.
The second he left the store, Nagengast knew exactly what kind of opportunity his family had fallen into. The chance to sell quality, mostly heirloom seeds at a time when home gardening and interest in food quality have become incredibly popular in this country seemed like a something not to be passed up.
"Italian cuisine is almost a brand," he says. "Italian restaurants have been around forever, but the whole slow food movement and the Mediterranean diet, all those sorts of things have really come together to make this kind of interesting moment for these kinds of foods."
Not to mention it was a chance to combine several of his family's interests into one franchise. The couple not only owns and runs Wild Onion Farm, but then there's the matter of Byczynski's publication and Nagengast's longtime position as the executive director of the Kansas Rural Center.
The only hitch would be that to run the company, Nagengast would have to leave the KRC, which he's headed since 1992. It was a tough decision but one Nagengast decided had to be made at this point in his life. As he says, 20 years is a long time to do anything, let alone be in a single job.
"If you do anything for 20 years, the surprises kind of go away," says Nagengast, whose last day at the KRC was June 30. "I'm the sort of person who wants something new to do."
By late June, the couple was well on its way to purchasing the company and hopped a plane to Italy to see the Franchi factory in Bergamo, just northeast of Milan. What they saw made a huge impression — the Franchi family has been selling seeds since 1783 and specializes in heirloom seeds that are chosen for flavor rather than conventional growing and shipping methods.
"They're not particularly grown for production. The beans, one of the Italian words I've learned is rampicante — rampant. There are beans that grow 15 feet long," he says, laughing. "In this country, you want a bean you can run a machine over. Some of these are really backyard garden kind of thing."
Now set up in a sunny yellow office in the couple's basement, Nagengast is racking seeds that have arrived on giant maritime pallets and shipping out orders that roll in through growitalian.com and the company's catalog. A retooling of the website is also in the works, and the whole family is in the act from Nagengast navigating the changes to his wife and daughter, Laurel, prepping photos of the seeds, vegetables and packages and son, Will, doing legwork to get Seeds from Italy a social media presence on Facebook and Twitter.
Though the company has only been in the family's hands for a few days, Lawrence growers have been able to try the product. M.A.D. Farm, which grows vegetables on some of Wild Onion's land, has been using the seeds for its CSA and gardeners and small farmers have been able to buy the company's seeds in town since late winter. While in talks to purchase the company, Nagengast spoke with Linda Cottin about test-driving the seeds at Cottin's Hardware & Rental, 1832 Mass. Cottin, mother to M.A.D. Farm's Cole Cottin, sprang for a small display — about 30 varieties. She says her customers noticed them right away and took to them because of their hard-to-find varieties, seed-saving capabilities (almost all are open-pollanted) and value — the seed packets are much larger than average (5,000 basil seeds come in a single packet), with big, bold photos of the variety on the front.
"We have a couple of customers who actually have roots from Italy or who have visited Italy or are Italian cooks that were really excited about it," she says. "We've also had a couple of customers come in and go, 'Oh, that's wonderful, I went to Italy and I smuggled home seeds, but now I don't need to do that anymore."