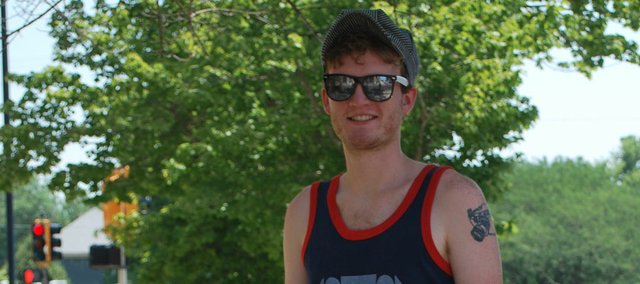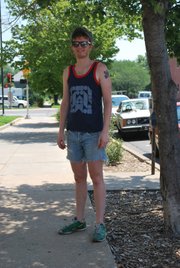 Name: Mick Cottin
Age: 25
Sign: Aries
Relationship status: Engaged!
Hometown: Lawrence
Time in Lawrence: 19 years
Occupation: Independent cinema projectionist, record store clerk and local hardware store tycoon.
What were you doing when scouted? Frantically opening Liberty Hall.
How would you describe your style? The good kind of trashy.
What are your current favorite fashion trends? Short shorts, tank tops and long legs.
What are your least favorite fashion trends? Disney-themed shirts, long pants in triple-digit temperatures and shirtless dudes downtown.
What would you like to see more of in Lawrence? More bike racks, more people at the Thursday Cottin's Farmers Market and more Ping-Pong tables.
What would you like to see less of in Lawrence? Less nasty anonymous comments on Lawrence websites.
Do you have any piercings or tattoos? Yes. A camera on my left arm. I'd get more if I had the money.
Do you have any fashion influences? The guys I work with.
People say I look like… Matt Smith (aka Dr. Who) and a train wreck.
Tell us a secret: My 12th Great Grandfather fell off the Mayflower.
More like this story on Lawrence.com