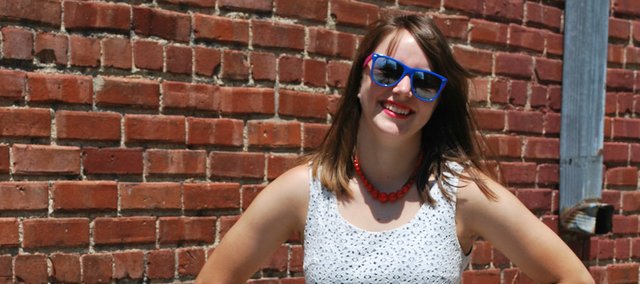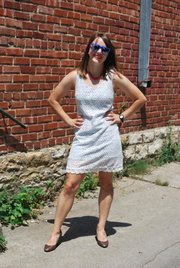 Name: Robyn Lee
Age: 24
Sign: Sagittarius
Relationship status: Engaged
Hometown: Lawrence
Time in Lawrence: All my life
Occupation: Veterinary nurse, projectionist, video store clerk.
What were you doing when scouted? Eating a bagel at La Prima Tazza, 638 Mass.
How would you describe your style? Typically, easy-peasy.
What are your current favorite fashion trends? People who dress themselves according to what looks good on them, not necessarily sticking to a certain trend.
What are your least favorite fashion trends? Capri pants and leggings instead of pants.
What would you like to see more of in Lawrence? People taking good care of their pets.
What would you like to see less of in Lawrence? Avocados.
Do you have any piercings or tattoos? Two tattoos — an owl on my leg and the product of Kansas symbol on my wrist.
Do you have any fashion influences? Lawrence locals, including Katie Ashmore and Katy Seibel.
People say I look like… Ellen Page in the movie Juno. So, I look 16 and pregnant? Thank you!
Tell us a secret: When I was 11, I won the Junior Olympics for the 3000 meter Race-walk
More like this story on Lawrence.com