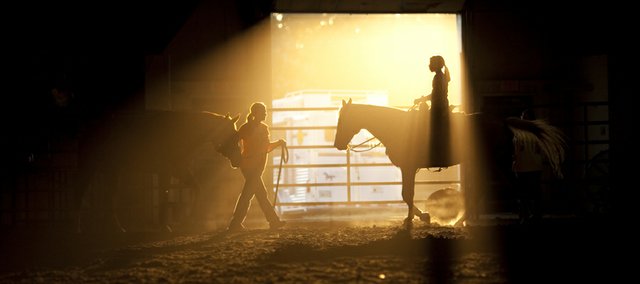 Horses are a way of life for most of the competitors in Friday night's barrel racing competition at the Douglas County Fair.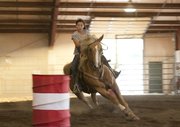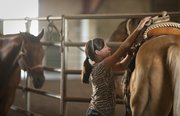 "I think it's in my blood," says event organizer Darby Zaremba. "I've been riding all my life."
She isn't kidding about that. Her mother, Lawrence resident Sue Mohr, won a Western Pleasure competition when she was eight months pregnant with Darby. "My dad gave her an award that said 'Most Pregnant Rider!'" she says.
While Darby Zaremba, who was Douglas County's 4-H Horse Show Queen when she was 16, has been active in horse show competitions, she won't be competing Friday as it's too difficult to race while keeping up with the other entrants, including her daughter, Regan.
"Really, there's no choice when you're a third generation!" Darby jokes.
Regan, who will be an eighth-grader at Bishop Seabury Academy next fall, has also been riding horses since she was 2 and started barrel racing, competing in the Pee Wee Class at the fair, when she was 8.
"It's something different from what other kids do," Regan says.
Her 14-year-old quarter horse, Sox, also likes the competition.
"He's really sweet," Regan says. "Sometimes he can be lazy."
But that doesn't happen when it's time for barrel racing.
"He's always ready to go in there and run," she says.
Another horse ready to compete Friday night is Dozer, 16-year-old Baylie Moon's quarter horse. Like Regan, Baylie is a third-generation competitor. "It's almost a sickness," jokes Baylie's mother, Raelynn Moon. "My mom did barrel racing. I did barrel racing, and now Baylie is competing."
Those who own and show horses know that it's more than just the love of animals that keeps them competing. "Riding keeps our family close," Raelynn says. "Where she goes, I go, and if I am on my way to something horse-related, nine times out of ten, she will come with me."
The Zaremba family has also experienced the closeness horse competitions bring, after spending consecutive weekends traveling to Oklahoma, Missouri and Iowa for horse-related activities. "It definitely keeps families together!" Darby says.
Another benefit to horse ownership is the responsibility that the animals instill.
"Horses are such a good teaching tool," Raelynn says. "The whole idea of taking care of an animal ... it teaches responsibility, compassion and patience."
While barrel racing isn't just a women's event, it is much more popular with women than men, and Darby expects that most of the participants at this year's event will be females.
"Last year we had about 75 people compete in the barrel race, and six of them were men," Darby says.
"Men will compete when there is a lot of money at stake," she says, noting that races can pay up to $100,000, and that Friday's jackpot competition will pay the winners in its various divisions about $200 each. "Men are more drawn to the roping and calf-tying rodeo events."
A notable absence from this year's barrel-racing competition is lifelong Lawrence resident Linda Kay, who has been riding for more than 50 and can't remember when she first competed in the race. "It was the late '60s or early '70s," she says. "I wasn't ever in 4-H but got my first horse when I was a teenager. My dad always liked horses, and I think buying me one gave him an excuse to be around them!"
Kay has embraced the lifestyle ever since.
"The horses become your friends and your family. You get to take an animal and mold him into a competitor," she says. "There's a bonding you can't get with a boat!"
Surgery on her rotator cuff will keep Kay sidelined for this year's event.
"The doctor said I couldn't ride for six months," she says, noting that she has filled her time this spring and summer traveling around watching her colts race. "I expect to be back on my horse in December."
Like others who were born or fell into the lifestyle, Kay has seen the benefits of riding and racing.
"I think horses give kids, especially girls, a certain amount of confidence," she says. "There's a certain amount of freedom and power that you get when you can ride a horse."
Perhaps that is what keeps her coming back.
"I keep trying to retire!" Kay says. "I took up fox hunting for a while and did cowboy polo, but for some reason barrel racing always draws me back in!"
More like this story on Lawrence.com