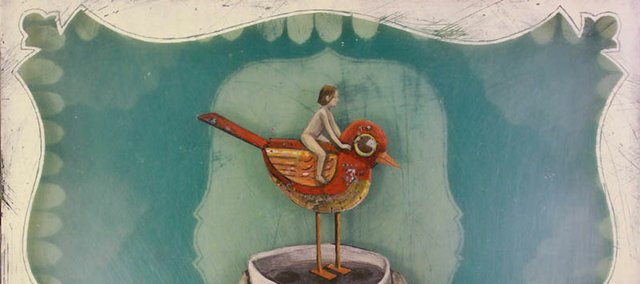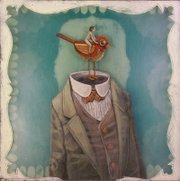 Past Event
Friday, July 29, 2011, 6 p.m. to 9 p.m.
Invisible Hand Gallery, 801 1/2 Mass. St., Lawrence
All ages
One local art gallery will take on a whimsical air this Friday when Fayetteville, Ark., artist Ben Strawn opens his first exhibition in Lawrence, "The End of Days Parade," at The Invisible Hand Gallery, 801 1/2 Mass.
Equal parts fairy tale and horror movie, the pieces in "The End of Days Parade" were influenced by the "sky is falling" story of Henny Penny, as well as the haunted children's books of George McDonald. What emerges is a group of windows into another land where mice ride wooden fish through mysterious forests and headless men roam around with backs full of knives.
Going deeper, the pieces comment on the state of the natural world that is rapidly being changed by human hands. Strawn says he sees the characters in his paintings as an "army of nature" preparing for a battle, though he says he's tried to keep any obvious implied meanings out of the works.
"If it wasn't ambiguous then it wouldn't be interesting," Strawn says. " I want people to look and find their own story."
Strawn made his works by layering individually painted panes of plexi-glass, often sanding certain layers to give the pieces a mysterious haze, and allowing him to give the paintings a true sense of depth. Each painting resides in a handmade frame that Strawn considers to be vital to the piece as a whole. Holding the painting against a light source can reveal more details, and Strawn hopes to hang the paintings in a way that allows attendees to lift them off the wall and explore each piece's tiny but intricate world.
Adam Smith, owner of the Invisible Hand Gallery, is a long-time friend of Strawn. Smith says he's been trying to get Strawn to show his work in Lawrence for years now.
"I personally think Ben is one of the most talented artists in the Midwest," Smith Says. "The work he's been doing in the past five to 10 years is world class."
And Strawn says he's only getting started. He's been working on these paintings for the last few years and feels like he's just now hitting his stride.
"I feel like this show is the start of a body of work," Strawn says.