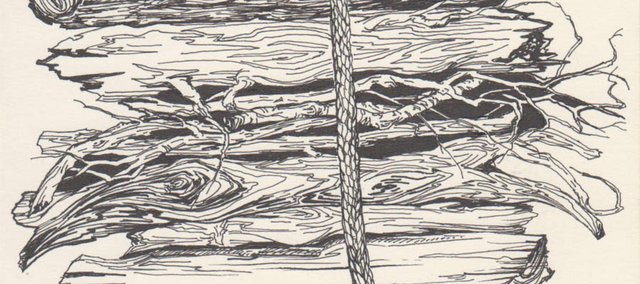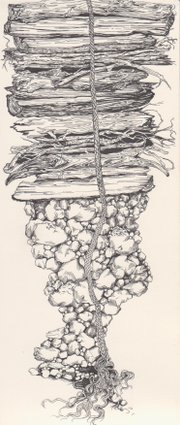 Past Event
Friday, July 29, 2011, 6 p.m. to 9 p.m.
Bourgeois Pig, 6 E. Ninth, Lawrence
All ages
In her newest body of artwork, Lawrence artist (and Final Fridays coordinator) Molly Murphy explores the way in which human beings think about the natural world. And she is bringing her musings to the public in a new exhibition, "The Long and the Short," at The Bourgeois Pig, 6 E. 9th St.
Murphy says "The Long and the Short" is largely influenced by technology developer and genius-at-large Jeff Hawkins' theories on the human brain. She's even included a Hawkins quote with her artist statement for the exhibition:
"We experience the world through a sequence of patterns, and we store them, and we recall them. And when we recall them, we match them up against reality. We are making predictions all the time. It's an internal metric ... a prediction leads to intelligent behavior."
In the ink drawings and mixed-media pieces that comprise "The Tall and the Short," Murphy illustrates Hawkins' theory using pieces of nature, offering an interesting take on how we interact with and understand the world around us.
Murphy says this show will be somewhat of a precursor to a show opening at Baker University in October, where she will showcase some larger pieces made in the same vein.